Losing streak hits double figures as Rox take opener
Losing streak hits double figures as Rox take opener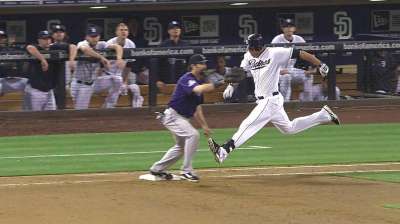 SAN DIEGO -- The Padres have spent all season trying to battle back from their 5-15 start. It wasn't too long ago that they got back to .500 at 40-40 and were within striking distance in the National League West.
But after Monday's 4-2 loss to the Rockies, the Padres have a new hole to try and climb out of. They find themselves 10 games under .500 for the second time this season and this time it may be more difficult to come back.
The current losing streak has now reached a season-long 10 games, the longest since the Padres also dropped 10 in a row from Aug. 26-Sept. 5, 2010.
"For the most part, it hadn't been sloppy baseball that's getting us, it's been a tough stretch," said third baseman Chase Headley. "We got to find a way to score more runs than them, but it's not like we're playing bad baseball."
Said manager Bud Black: "If we're not scoring enough runs, we're not pitching well enough to get inside the number we're scoring, and if we score some runs, we're giving up more. So synching it up is a little bit of the issue."
Padres starter Edinson Volquez was the pitcher of record the last time the Padres won a game. That was on June 28 against Miami, and he pitched well in his most recent start against Boston.
But Volquez did not have his best command on Monday.
Volquez's fastball was a little erratic at the start of the game. He walked the leadoff hitter, Corey Dickerson, and allowed a single by Michael Cuddyer two batters later. That set the table for a two-run double to left by Wilin Rosario to give the Rockies a 2-0 lead.
Volquez said he felt really good out of the bullpen, but he thought he rushed his delivery on the mound and that never allowed him to settle down.
"I was trying to do the best I could to get back where I was [pregame] and I couldn't find it tonight," he said. "I was off a little bit with my rhythm."
The Rockies struck again the sixth inning with runners on first and third. Jonathan Herrera laid down a squeeze bunt that Volquez could not handle and botched a throw to the plate, allowing Nolan Arenado to score. Volquez walked the next batter -- Rockies pitcher Tyler Chatwood -- on four pitches before he was taken out of the game.
Dickerson added a sacrifice fly off Brad Brach, but the run was charged to Volquez, who surrendered four runs on eight hits and four walks in 5 1/3 innings.
Meanwhile, Chatwood cruised through the first six innings without much trouble. Even when the Padres hit the ball hard off Chatwood early in the game, each line drive seemed to be right at the Rockies' defenders.
Chatwood's first and only real adversity came in the seventh inning, after allowing a leadoff single to Jesus Guzman and walking the next batter, Logan Forsythe. Chatwood got the next two batters out before Nick Hundley's pinch-hit infield single loaded the bases.
Chatwood walked the next batter, Everth Cabrera, to force in a run and wasn't happy when that's how his night needed.
"Any time you give up runs, you're not going to be very happy," Chatwood said. "I wanted to finish, but those two walks hurt me. Those pitches to Cabrera were pretty close, but you can't do anything. Just keep going."
He was relieved by lefty Rex Brothers, who allowed an RBI infield single to pinch-hitter Kyle Blanks. That made the score 4-2, but Headley popped out to second with the bases loaded to end the threat.
Chatwood scattered five hits and allowed two runs in 6 2/3 innings.
"We couldn't really solve him," Black said. "Lively fastball, quick arm for a young guy, has a little life to him in the hitting area. Good hook. Couple good changeups, too. He pitches aggressive, comes at you a little bit, but good fastball."
The Padres brought the winning run to the plate in the ninth with two runners on for pinch-hitter Mark Kotsay, but Rockies closer Rafael Betancourt got him to fly out to left field.
The Padres have lost nine of 11 to the Rockies this season.
Jamal Collier is an associate reporter for MLB.com. This story was not subject to the approval of Major League Baseball or its clubs.