Short-handed Rox take opener at Petco
Short-handed Rox take opener at Petco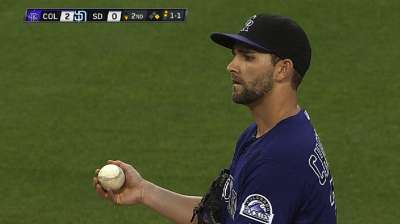 SAN DIEGO -- Short on heavy hitters, the Rockies turned to an undersized pitcher and an even smaller shortstop for much of the heavy lifting on Monday night.
Tyler Chatwood pitched a solid 6 2/3 innings and Jonathan Herrera had a standout performance defensively and drove in a run on a deft squeeze bunt in the Rockies' 4-2 victory over the Padres at Petco Park in front of 20,400.
With National League home run leader Carlos Gonzalez sitting out with a sprained right middle finger, and cleanup man Troy Tulowitzki (broken rib) and leadoff hitter Dexter Fowler (right hand) beginning rehab assignments at Triple-A Colorado Springs, the Rockies weren't going to slug their way to a victory, not in pitcher-friendly Petco.
They needed the lifts that Chatwood, listed height at 6-feet, and Herrera, who is about 5-9, provided.
"I was messing with him before the game, and told him they were going to hit every ball to him, so be ready," said Chatwood, who gave up two runs on five hits, struck out four and forced nine groundball outs -- six that went Herrera's way.
Herrera homered for the Rockies' only run in Sunday's 6-1 loss at Arizona, but that was his first of the year. Monday was more indicative of Herrera's game. He pirouetted after nabbing a Rene Rivera grounder to open the third, and dove behind second base to rob Padres pitcher Edinson Volquez of a hit with one on to end the fifth, and was trusted to lay down the squeeze in the sixth.
"I tell myself this is a new game, a new day, and I need to do something -- play defense, bunting, moving a guy over," said Herrera, who also had two hits.
The little guys provided a big lift to the Rockies, who suffered a three-game sweep at the hands of the D-backs over the weekend to start an important 10-game road trip going into the All-Star break. Despite that, the victory -- which gave the Padres their 10th straight loss -- put the Rockies 4 1/2 games behind the D-backs in the National League West. Suddenly, it's possible to gain traction during this road trip.
"Things change every day or two in this game," Rockies manager Walt Weiss said. "You can create some momentum quickly or you can lose it quickly."
Chatwood understands that all too well.
In his last start, the Rockies gave him a 4-1 lead, but the Dodgers touched him for six runs (five earned) and 11 hits in five innings. On Monday, Wilin Rosario's two-run double off Volquez in the first gave Chatwood a 2-0 lead, and in the fifth Herrera's squeeze bunt to drive in Nolan Arenado from third and Corey Dickerson's sacrifice fly doubled that lead.
Chatwood made it stand.
"I just wanted to go right after guys," said Chatwood, who improved to 3-1 with a 1.28 ERA in five road starts. "The defense made some good plays behind me, and I just felt I was in rhythm and no need to go down."
For much of his time on the mound, the Padres didn't slow him down. He didn't give up a hit until the fourth.
"We couldn't really solve him," Padres manager Bud Black said. "Lively fastball, quick arm for a young guy, has a little life to him in the hitting area. ... Good hook, couple good changeups, too. He pitches aggressive, comes at you a little bit, but good fastball."
The Padres gained some traction after a scary moment in the sixth. Everth Cabrera lashed a ground ball that hit Chatwood in the right shin.
"At first it was pretty sore, but after I walked it off, I got the feeling back and was able to go through," Chatwood said.
Chase Headley doubled two batters later. But Chatwood forced a grounder from Carlos Quentin to end the inning.
But the Padres loaded the bases against Chatwood with two outs in the seventh, and Chatwood walked Cabrera before leaving the game. Rex Brothers forced Kyle Blanks to ground to the left side, but third baseman Arenado ranged in front of Herrera to field the ball, and couldn't get the runner at second or Blanks at first. Finally, Brothers worked Headley into a looping liner to second baseman DJ LeMahieu.
Chatwood going as long as he did allowed the Rockies to use their regular late-lead protectors -- Brothers, Matt Belisle and Rafael Betancourt (12th save).
"I was trying to go as long as I could with 'Chat' tonight, the way our bullpen was beat up yesterday," said Weiss, who had to use four relievers Sunday because starter Roy Oswalt suffered a hamstring injury in the second inning. "He did exactly what we needed. He's done that a lot this year. He's been real good."
Betancourt gave up a Chris Denorfia double with one out in the ninth and walked Cabrera with two outs before working Mark Kotsay (in an 0-for-21 slump) into a fly ball to end the game.
"The last 10-14 days, we've been struggling, but it's very exciting to win a game the way Chatwood, Rex and Matty pitched today," Betancourt said. "I didn't want to be the one to give it up."
Thomas Harding is a reporter for MLB.com. Read his blog, Hardball in the Rockies, and follow him on Twitter @harding_at_mlb. This story was not subject to the approval of Major League Baseball or its clubs.