Kemp, Fife headed to 15-day disabled list
Kemp, Fife headed to 15-day disabled list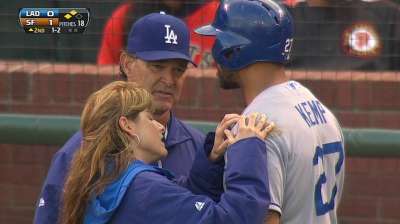 PHOENIX -- Back in injury mode, the Dodgers Monday placed outfielder Matt Kemp and starting pitcher Stephen Fife on the 15-day disabled list with shoulder injuries.
Kemp's place on the roster will be taken by Scott Van Slyke, recalled from Albuquerque. Fife's spot on the roster will be taken by newly acquired Ricky Nolasco, who makes his Dodgers debut Tuesday night. Nolasco was acquired from the Marlins on Saturday for three Minor League pitchers.
Fife had a recurrence of right shoulder bursitis that put him on the DL in May. He said it surfaced Sunday but didn't bother him during his Saturday start in San Francisco. Fife has gone 3-3 with a 2.76 ERA in eight starts.
Fife's next start, scheduled for Thursday night, will be taken by Chris Capuano, who gets a reprieve after being bumped to the bullpen with Nolasco's arrival.
Kemp is still unable to swing a bat after irritating the acromioclavicular joint in his left shoulder on a swing Friday night.
Kemp tried to test the shoulder during early batting practice, but it "didn't go very well," manager Don Mattingly said. Kemp will fly back to Los Angeles to be examined by Dr. Neal ElAttrache, who performed surgery to repair his torn labrum and rotator cuff fraying last year.
The Dodgers still believe the current injury is unrelated to the surgery, although Mattingly conceded he's "a little bit concerned."
"It is the same shoulder," he said. "He had a shot, I think in the Spring, that made everything go away. I think we're being a little cautious. He probably would be able before the break. The other day, I didn't think he'd be disabled."
"He was already going to miss four days and with the All-Star break, it didn't make sense for us to play short all that time," Mattingly said. "We'll be half-way through."
Kemp was batting .254 with four homers (including one in each of the two games preceding the injury) and 24 RBIs in 61 games. Earlier this year, he missed 24 games with a right hamstring strain.
Mattingly said because of the All-Star break, Fife will miss only one start and will be eligible to return to start the fourth or fifth game after the break.
"He's another one that didn't make sense to let him go farther," said Mattingly.
Fife said his shoulder didn't bother him during his unlucky 4 1/3 inning start Saturday, but discomfort cropped up playing catch Sunday, and he was unable to throw his regular bullpen session Monday.
"It's not nearly as bad as last time," said Fife, who was placed on the DL April 22 with the same diagnosis. "The doctor said it's just inflammation of the bursa sac, everything else is clean."
Ken Gurnick is a reporter for MLB.com. This story was not subject to the approval of Major League Baseball or its clubs.