Locke unable to pitch in All-Star Game
Locke unable to pitch in All-Star Game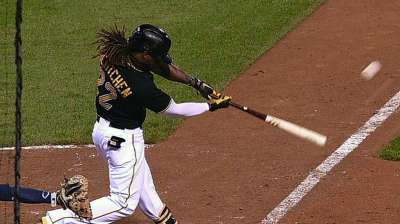 PITTSBURGH -- Jeff Locke, one of baseball's most unlikely All-Star selections, will not be able to take the field in the Midsummer Classic next week.
Locke started Monday against the Athletics and will start again Sunday against the Mets, meaning he will not be available for the All-Star Game two days later.
Pirates manager Clint Hurdle will keep the rotation the same heading into the break. Charlie Morton will start Friday, and A.J. Burnett will throw Saturday.
"I would prioritize our need over their need," Hurdle said. "I think this is a good move. You should not take away from your seasonal objective."
Bartolo Colon, Oakland's All-Star who started against Locke on Monday, is in the same boat, as his next start is Sunday as well.
Steven Petrella is an associate reporter for MLB.com This story was not subject to the approval of Major League Baseball or its clubs.