Big hit eludes Yanks late in loss to Royals
Big hit eludes Yanks late in loss to Royals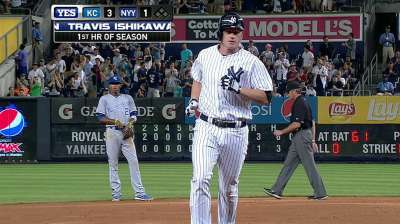 NEW YORK -- In the seventh inning, the Yankees had runners on the corners with two outs. In the eighth inning, they had runners on first and second with one out. And in the ninth inning, they had the based loaded with no outs.
They were unable to score a run in all three of those situations.
Pinch-hitter Eduardo Nunez struck out to end the seventh, right fielder Vernon Wells grounded out to end the eighth, and Nunez, center fielder Brett Gardner and left fielder Zoilo Almonte struck out in three consecutive at-bats to end the game in a 5-1 loss to the Royals on Monday night.
Those three innings capped off a disappointing offensive performance for the Yankees, who struggled all night against Kansas City pitching. New York was just 1-for-7 with runners in scoring position and left 10 runners on base in the game.
Royals starter Jeremy Guthrie had allowed 17 runs in his past 22 innings entering Monday's game, but he seemed to have no trouble shutting down the Yankees. The right-hander pitched 6 2/3 innings, allowing one run on six hits while striking out three.
"He changes speeds on his fastball really well and uses his other pitches," manager Joe Girardi said. "He's really come up with a wide range of speed that you'll see with his fastball, and it keeps hitters off balance."
Guthrie pitched deep into the game despite being interrupted by a 59-minute rain delay that came in the bottom of the fourth inning. Seconds after the grounds crew began spreading drying agent on the infield, the skies opened up in the Bronx and the umpires called for the tarp. The rain was coming down so hard it took the grounds crew nearly 10 minutes to cover the infield.
"The rain popped up out of nowhere," Kansas City manager Ned Yost said. "We had Guthrie throwing every 10, 15 minutes in the cage to stay loose. The weather was warm. He was adamant he was fine. With a short 'pen, I said, 'Let's give it a shot.' He went out and did a great job."
Phil Hughes wasn't as fortunate. The Yankees' starter had a longer wait to get back on the mound after the delay -- the rain came during New York's turn to bat -- and Girardi said he wasn't comfortable bringing him back in after about an hour and 15 minutes on the bench.
"I was throwing in the cages and stuff and they asked me if I was OK, and I said, 'Yeah, I'm ready to go,'" Hughes said. "I just left it in their hands. Joe told me he never wants to mess with anyone's health, so you have to respect that."
The right-hander pitched just four innings in the game, allowing two runs on four hits. Both runs came in the second inning, when Billy Butler hit a home run and David Lough hit an RBI double.
Adam Warren pitched effectively in relief, allowing just one run in 3 2/3 innings and keeping the Yankees within striking distance. But no matter how close they stayed to the Royals, the Yankees couldn't do enough on offense to close the gap.
Looking for a spark in the seventh inning, Girardi emptied his bench. Lyle Overbay -- pinch-hitting for first baseman Travis Ishikawa, who was 0-for-2 with two strikeouts in his Yankees debut -- hit a home run to right and, after shortstop Luis Cruz singled, pinch-hitter Ichiro Suzuki hit another single to give the Yankees runners on the corners with two outs.
Girardi's final substitution didn't come through like the first two did, though, as Nunez struck out swinging to record the final out. New York suffered similar fates in the final two frames.
Gardner's ninth-inning strikeout marked the 16th consecutive game he has struck out, setting a new franchise record.
"He's just kind of been in a little funk right now. I can't really put my finger on it," Girardi said. "He's just struggling a little bit."
On Monday, the rest of the Yankees' bats were, too. The team is now 1-27 in games where it scores two runs or fewer, which is among the worst marks in baseball.
"It's tough. Sometimes it's just the way it goes," Hughes said. "I felt like I maybe found something in the third and fourth innings. I felt pretty good. But that's baseball. Sometimes the weather doesn't cooperate. So it was kind of a tough night."
Josh Vitale is an associate reporter for MLB.com. This story was not subject to the approval of Major League Baseball or its clubs.