Chance Moore could still be an All-Star
Chance Moore could still be an All-Star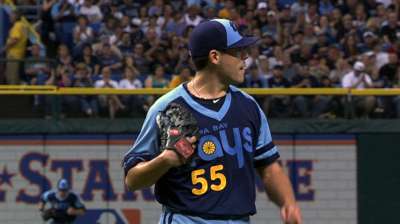 ST. PETERSBURG -- Matt Moore did not make this year's American League All-Star team despite his 12 wins thus far, but Rays manager Joe Maddon said there's still a chance the left-hander will be in New York for the Midsummer Classic.
At least three pitchers on the AL team could be replaced because they are scheduled to start on Sunday, two days before the game.
Moore has said he would love to be considered as a replacement for one of those pitchers. And Maddon would love to see it happen.
"I am hopeful," Maddon said. "I believe it is something that can happen, but I have not heard from anybody yet. There's three guys who are pitching on Sunday who have to be bumped? I'd have to believe Matt's got a pretty good shot under those circumstances. And that would be great."
Moore's next scheduled start is Thursday, which would put him on perfect rest to appear in the game.
The three All-Stars scheduled to pitch on Sunday are: Seattle's Hisashi Iwakuma, Detroit's Justin Verlander and Oakland's Bartolo Colon.
Bill Chastain is a reporter for MLB.com and Sam Strong is an associate reporter for MLB.com. This story was not subject to the approval of Major League Baseball or its clubs.