Lackey does his part, but offense held in check
Lackey does his part, but offense held in check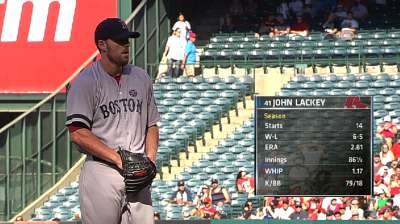 ANAHEIM -- The continued dominance of John Lackey wasn't enough for the Red Sox on Sunday night at Angel Stadium.
Lackey was in fact outpitched by former teammate Jered Weaver not by much, but just enough for the Angels to come away with the 3-0 victory in the rubber match of this three-game series.
In his days with the Angels, Weaver was Lackey's closest friend on the team. They remain good friends, bolstered by a mutual respect for one another.
"Weav's tough, man. He's pretty good," Lackey said. "He's a guy with a lot of options. He can change speeds. He doesn't need a real dominant fastball to compete and get outs. He's got different ways to do it and he's tough. You've got to tip your hat to him."
For the fifth straight start, Lackey turned in a stellar performance, giving up five hits and two runs over seven innings. He walked one and struck out nine, throwing a season-high 116 pitches.
Don't let Lackey's 6-6 record fool you. His 2.80 ERA is far more indicative of the way he has pitched.
"This is probably the best first half I've had. It makes some things a little frustrating, but it is what it is," Lackey said.
When Lackey takes the ball, the Red Sox know exactly what they are going to get.
"He was outstanding once again," said manager John Farrell. "Two solo home runs through seven innings. I thought he was powerful. Held his stuff throughout the full seven innings. A lot of strikes."
Consider that what Lackey has done of late isn't just remarkable in his post-Tommy John surgery stretch. There are those who think Lackey has never pitched better than he is these days.
"I don't know if I've ever seen John Lackey have better stuff," said Angels manager Mike Scioscia, who managed the righty from 2002-09.
Farrell didn't see Lackey on a start-by-start basis during the Angels' years, but he backed up Scioscia's assertion.
"John's pitching as well as any point and time in his career," Farrell said. "It's not to short-change anything he's done early on, but he's in a very good place right now."
Weaver gave the Angels 6 2/3 shutout innings, giving up five hits. He walked two and struck out six, throwing 114 pitches.
"That's my boy," Lackey said. "I talked to him the other day. He hooks me up with my shoes, the shoes I'm wearing [right now] are his. I talked to him when he had his kid a couple of days ago. He's become a great pitcher in the league. It's fun to watch."
As it turned out, solo homers by Mike Trout (first inning) and Hank Conger (fifth) were the difference in the game.
The only pitch Lackey wishes he could have back was the home-run pitch to Conger. Trout? He continues to amaze just about every pitcher who tries to get him out.
"About 96 away," Lackey said of the pitch Trout hit. "That's a pretty good hitter who made a really good swing."
While Lackey and Weaver were engaged in quite a duel, the Red Sox were having a hard time producing anything of substance. Boston's best early rally was in the first, when Jacoby Ellsbury led off with a double and Daniel Nava followed with a single. But Weaver sent the next three batters down in order, the first of which was a bullet off the bat of Dustin Pedroia that was hit right at third baseman Alberto Callaspo.
Albert Pujols nearly manufactured a run for the Angels in the sixth with some heads-up baserunning. After Josh Hamilton drew a walk, Pujols, off with the 3-2 pitch, moved to second. The Red Sox had been in an overshift during the Hamilton at-bat and Pujols, who noticed that third base was uncovered, roared to third as catcher Ryan Lavarnway was getting the ball back to Lackey.
"Well, he moves on the 3-2 pitch and then sees a vacant third base and was in a little bit of a footrace with [Jose Iglesias]," said Farrell. "Fortunately it didn't cost us anything further."
Pujols wound up stranded, after a hard groundout to short by Howie Kendrick.
Once Weaver departed, the Red Sox didn't have any better luck against the Angels' bullpen.
For the second straight night, Halos closer Ernesto Frieri was nothing short of filthy. After David Ortiz reached on an error, Frieri struck out Mike Napoli, Mike Carp and Lavarnway to end the game.
With two outs in the ninth and a four-run lead on Saturday night, the Red Sox wound up losing in extras. So instead of taking two out of three, they lost two out of three.
Still, they head to Seattle with a 4 1/2-game lead on the Orioles and Rays in the American League East.
"Last night was a tough loss. One out away from winning the series and it got away from us," said Farrell. "We didn't close the door and they kind of kicked it down and walked through it last night. I still like this team. Tonight, we didn't create a whole lot for ourselves, but this is a team that continues to battle. There's a lot of good at-bats. We're going to put a lot of people on base. Tonight just wasn't one of them."
Ian Browne is a reporter for MLB.com. Read his blog, Brownie Points, and follow him on Twitter @IanMBrowne. This story was not subject to the approval of Major League Baseball or its clubs.