Weaver outduels Lackey as Halos blank Sox
Weaver outduels Lackey as Halos blank Sox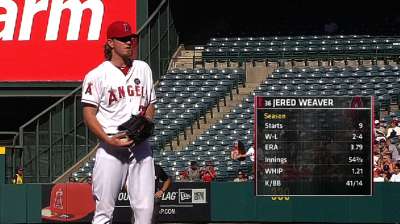 ANAHEIM -- For the second time in as many meetings, the matchup between friends and former teammates John Lackey and Jered Weaver lived up to its billing as a pitchers' duel.
The difference, however, came in the result as Weaver led the Angels to a 3-0 victory over the Red Sox on Sunday at Angel Stadium.
"Those two guys went pitch for pitch," manager Mike Scioscia said. "I don't know if I've ever seen John Lackey have better stuff. He was throwing the ball well and Jered matched him pitch for pitch."
After taking two of three from the Red Sox, the Angels have won 10 of their past 12 games and are just two games under .500 for the first time since April 7.
"It's the best stuff that Jered's had all season, so it's a good time for it," Scioscia said.
Three seasons ago, Lackey and Weaver combined to pitch 14 1/3 innings while giving up two runs apiece. On Sunday, the duo combined for 230 pitches over 13 2/3 innings.
"It's awesome," Weaver said of pitching against his friend. "He did a lot of great things for the Angels, he did a lot of great things for me. Just learning from him, he's one of those guys that kind of took me under his wing and taught me the ropes."
Weaver, pitching two days after the birth of his son, fired 6 2/3 shutout innings and allowed just five hits.
"Been feeling good, feeling healthy, was able to locate pretty good and me and Hank [Conger] stuck to the game plan," Weaver said. "Wanted to keep those guys off-balance. Obviously they've got a pretty potent lineup over there. Just wanted match Lackey. He's feeling good over there, he's been throwing the ball real well."
Lackey, who called Angel Stadium home for the first eight seasons of his career, threw the ball real well against his former club, as he finished seven innings, allowing two runs on five hits while striking out nine.
"I felt pretty good about it," Lackey said. "My arm's still feeling good. One of those deals. Weav pitched really good today."
Weaver has allowed just two runs in his last 20 2/3 innings and won each of his past two starts, but the Red Sox made him work for it in his 114-pitch outing.
Jacoby Ellsbury led off the game with a line drive to left field that J.B. Shuck misplayed. The result was a double, which extended Ellsbury's hitting streak to 17 games. Daniel Nava followed with a single and the Red Sox began the game with runners on the corners and no outs.
"Stuff like that's going to happen," Weaver said. "You've just got to try to limit the damage and pick up your defense just as much as they want to pick you up. I just wanted to make some quality pitches and try to get some out."
And Weaver did pick up his defense as he got Dustin Pedroia to line out to third before striking out David Ortiz and Mike Napoli.
Mike Trout, seizing the momentum generated when Weaver escaped the jam, gave the Angels a 1-0 lead in the bottom of the first with a home run to right-center field.
The home run was the 50th of Trout's career, giving him 50 home runs and 50 stolen bases in 266 games -- the quickest of any player in American League history.
The Angels added an another run in the fifth when Conger hit a solo home run and added an insurance run in the eighth when Mark Trumbo's sacrifice fly drove in Erick Aybar, who tripled to lead off the inning.
The Angels are 6-1 in their last seven series and concluded their homestand with a 4-2 record.
"It was only a matter of time before all this talent in the room came together and started to get something rolling," Weaver said. "Obviously it's a little later than we anticipated, but it's always good to get hot and hopefully we can keep this rolling into Chicago and go on to Seattle."
William Boor is an associate reporter for MLB.com. This story was not subject to the approval of Major League Baseball or its clubs.