Corbin in All-Star form for 10th win of season
Corbin in All-Star form for 10th win of season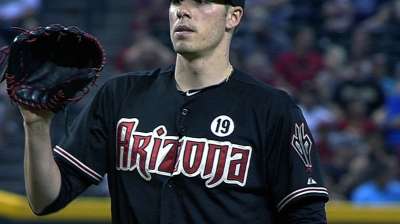 PHOENIX -- Even though he was winless in six starts since June 2 entering Sunday, Patrick Corbin didn't seem to mind being stuck on nine wins for more than a month with his club winning four of those contests.
His teammates, however, thought the young southpaw warranted better outcomes.
On Sunday, the Arizona lineup took matters into its own hands, pounding out 11 hits in support of another stellar performance from Corbin as the All-Star finally earned his 10th win of the season, 6-1, over the Rockies as the D-backs won their fifth straight game following a five-game losing streak.
"He deserved it a long time ago," Miguel Montero said. "He hadn't had the run support so it was tough, but he has been outstanding. He should be 15-0 to be honest. I'm pretty sure there's a lot of weight off his shoulders to get that 10th win."
In reaching double-digit wins before the All-Star break, Corbin became just the fourth pitcher in franchise history to accomplish the feat, joining Randy Johnson, Curt Schilling and Brandon Webb.
Despite being mentioned in the same breath as those illustrious names, the 23-year-old shied away from talking about himself.
"It helps when you're scoring that many runs," Corbin said. "Look, I'm trying to win every game I go out there. I got No. 10 today and I'll aim for No. 11 the next time I go out there."
The only run Colorado managed to push across Sunday came on Jonathan Herrera's solo homer in the eighth inning. Corbin finished his afternoon tying a career best with 10 strikeouts and allowing just three hits.
Combined with his most recent outing against Colorado on May 20, in which he tossed the first complete game of his career, Corbin has 20 strikeouts over 17 innings against the Rockies.
"They like to swing early, but he makes quality pitches every time, so he gets them out early in the at-bat," Montero said. "He was dominating right out of the gate and when he's on, he's on. Today was outstanding, they couldn't lay off him."
In the three-game sweep of the Rockies, the D-backs outscored the division rival 22-2 while each Arizona starter went eight innings and allowed one run or fewer. That meant the club's bullpen only worked three innings all weekend coming off a series in New York in which the D-backs played a combined 10 extra innings.
Bullpen staples like Heath Bell, Brad Ziegler, David Hernandez and Tony Sipp all received three days off, setting them up nicely for when the Dodgers come to town Monday trailing the D-backs by 4 1/2 games in the National League West.
"That was good, we were beat up coming in and it couldn't have went any better," D-backs manager Kirk Gibson said. "We're in much better shape going into this series than we were going into this last one."
The D-backs got on the board first Sunday in the second when Eric Chavez doubled to lead off the inning and later came around to score on a wild pitch. With two down in the frame, Rockies starter Roy Oswalt threw a slider in the dirt that Wilin Rosario couldn't handle, allowing Chavez to scamper in from third. While attempting to cover home, Oswalt came up limping on his left leg and was forced to leave the game with a strained hamstring.
Into the Colorado bullpen after just 1 2/3 innings, the D-backs broke the afternoon contest open in the third as each of the first four batters in the inning reached base. After Corbin walked and Gerardo Parra singled, Aaron Hill and Paul Goldschmidt each followed with run-scoring doubles to left field, handing Arizona a 4-0 cushion.
Goldschmidt's RBI upped his NL-leading total to 74 on the season.
Two innings later, Chavez added another insurance run with a single to left to give the D-backs' at least five runs for the fifth consecutive game.
"We've had good approaches lately," Chavez said. "We had a meeting in New York about doing that early in games, and since then, we have."
The five-spot was plenty of support for Corbin, who at one point retired 13 consecutive batters and only allowed one runner into scoring position all day, and he added to his memorable day in the sixth when he drove an RBI double into the right-center-field gap.
A byproduct of his gem, the lefty lowered his ERA from 2.49 to 2.40, good enough for fifth in the Majors. Upon his exit, Josh Collmenter worked a clean ninth to secure the sweep. Gibson considered letting Corbin try for his second career complete game, but with a pitch count of 97, he decided to go to the 'pen.
"Do you let him go back out there? He didn't have a shutout and I kind of wanted to put 'Colly' out there," Gibson said. "Eight innings was plenty for Patrick."
Tyler Emerick is an associate reporter for MLB.com. This story was not subject to the approval of Major League Baseball or its clubs.