Nicasio regaining form on mound at Triple-A
Nicasio regaining form on mound at Triple-A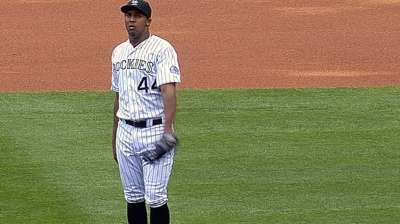 PHOENIX -- After not throwing a pitch in the seventh inning of any of his Major League starts this season, hard-throwing right-hander Juan Nicasio almost went the distance in his latest Triple-A start.
Nicasio pitched eight scoreless innings, struck out six and gave up five hits in Colorado Springs' 5-0 victory over Reno on Friday night. It was his second outing since his demotion.
With the Rockies, Nicasio had dominant stretches but in the middle innings would go away from his power and end up in trouble. He was facing Minor League hitters on Friday, but Nicasio's plan and execution would work anywhere.
"He threw very, very well from all the reports," said Bill Geivett, the Rockies' senior vice president of Major League operations. "He had very good fastball command and his slider and changeup were very good, too.
"He was consistent throughout his pitch count. A lot of players and pitchers can really focus on what they need to do once they get out of the intensity of this level. That's all it was."
Before the Rockies sent Nicasio down, with his 4-4 record and 5.31 ERA, the Rockies received questions, and even discussed internally, about whether he could be more successful as a starter or a reliever. With a fastball that, when his mechanics are right, can easily reach 96 mph, the Rockies believe he can be the power starting pitcher the organization has rarely produced.
"We talk about a number of guys -- starter, reliever, what would be best -- but the thing people tend to forget is before he was hit in the head with the line drive [in 2011], he was probably our best starting pitcher," Geivett said. "Those last couple years have been trying for him, with the knee [last season] as well. We really feel he's got the makings of a very good starting pitcher."
Geivett said there is no timetable for how long Nicasio will stay in Triple-A.
Thomas Harding is a reporter for MLB.com. Read his blog, Hardball in the Rockies, and follow him on Twitter @harding_at_mlb. This story was not subject to the approval of Major League Baseball or its clubs.