Giants facing some of NL's best pitchers
Giants facing some of NL's best pitchers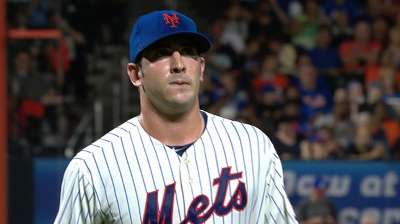 SAN FRANCISCO -- It's been awhile since the Giants have tagged an opposing starting pitcher and, if the probable pitchers for this week are any indication, it might still be awhile longer.
Clayton Kershaw entered Sunday's start against the Giants with a 2-0 mark and a 1.13 ERA in three starts against San Francisco this season. He even clubbed a go-ahead home run April 1 to become just the second pitcher to throw a shutout and hit a home run on Opening Day.
On Monday, the Giants get their first look of the season at Mets hurler Matt Harvey. The right-hander, who's headed to his first All-Star Game, allowed two earned runs in six innings in a loss to San Francisco in 2012. This year, he's contending for a National League Cy Young Award with a 7-2 record and 2.27 ERA.
Giants manager Bruce Bochy said the two pitchers are both candidates to start the All-Star Game and that what he sees from them the next couple of days might slightly go into his final decision, though he added that he already has "a pretty good lean on which way I'm going to go."
"We face some really good arms the next few days," said Bochy, who added that Kershaw and Harvey are two of the best pitchers in the National League. "It's important that we pitch well and score some runs for our staff. You want to go out there and compete when you're facing the best."
On Wednesday, Mets rookie Zack Wheeler will pitch against the Giants for the first time, which is significant because the team dealt its 2009 first-round Draft pick to New York in 2011 for Carlos Beltran. Although Beltran produced for Bochy when he wasn't hampered by injuries, San Francisco missed the playoffs and the outfielder signed with St. Louis as a free agent.
Wheeler, meanwhile, is rated as the sixth-best prospect in the game by MLB.com and is 2-1 with a 4.29 ERA in four Major League starts.
Andrew Owens is an associate reporter for MLB.com. Follow him on Twitter @OwensAndrew. This story was not subject to the approval of Major League Baseball or its clubs.