Nolasco to start Tuesday, Capuano to bullpen
Nolasco to start Tuesday, Capuano to bullpen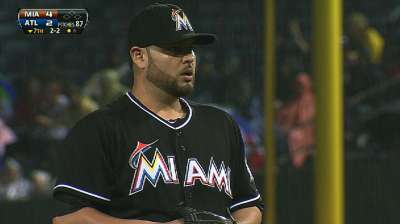 SAN FRANCISCO -- Newly acquired pitcher Ricky Nolasco will start Tuesday and bump Chris Capuano to the bullpen, Dodgers manager Don Mattingly said Sunday.
"As long as everything is OK, that's the plan," Mattingly said.
Nolasco and $197,000 in international signing space were obtained Saturday from the Marlins for pitchers Josh Wall, Steven Ames and Angel Sanchez.
Mattingly said Capuano would become the bullpen long man the Dodgers haven't had all season, taking the role that Jamey Wright filled last year. Wright wasn't re-signed because the Dodgers thought they had enough depth, bringing eight starting pitchers to camp.
But they traded Aaron Harang, Chad Billingsley blew out his elbow, Josh Beckett needs surgery to relieve a pinched nerve in his neck and Ted Lilly is currently on the disabled list for the third time this year.
That led to Saturday's trade. Mattingly confirmed that rookie Stephen Fife would remain in the rotation, with Nolasco inserted between Zack Greinke, who pitches Monday, and Hyun-Jin Ryu, who pitches Wednesday.
"We haven't had a true long man," said Mattingly. "Cappy is a guy that can throw throughout the game. He's ready to pitch all the time and if we get any issue with a starter, he's ready to roll [for a spot start]."
Mattingly said Capuano took the news professionally and he compared it to the club's outfield situation, which at some point might have four healthy outfielders for three spots.
"We're asking a guy to do something we feel is in the best interests for the team," Mattingly said. "He may not totally agree. I don't expect him to be happy. He's a pro. He understands the situation. He was professional about it. I'm sure he thinks he should be starting."
Said Capuano: "I wasn't consistent enough to keep that spot. Whether I'm OK with it or not, the bottom line is I had the opportunity and wasn't consistent enough."
Lilly was charged with six runs in 5 1/3 innings of a rehab start Saturday night with Class A Rancho Cucamonga. Mattingly said Lilly will meet the club in Arizona and throw a bullpen session, but gave no indication when or if Lilly would be activated.
"He keeps moving forward and we're getting him ready," he said.
Ken Gurnick is a reporter for MLB.com. This story was not subject to the approval of Major League Baseball or its clubs.