Costly errors nullify Gorzelanny's strong spot start
Costly errors nullify Gorzelanny's strong spot start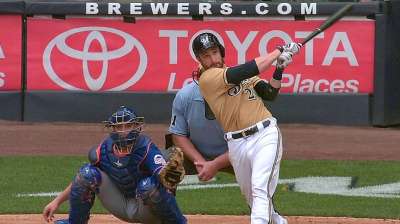 MILWAUKEE -- Tom Gorzelanny did all he was asked to do and more in Sunday's spot start for the Brewers. Milwaukee's defense did what has become expected of it of late.
The result was a 2-1 loss to the Mets that churned stomachs in the Brewers clubhouse.
Despite Gorzelanny's quality outing in his second spot start of the season, the Brewers dropped the rubber match of a three-game set at Miller Park. Defense again was the culprit as two Juan Francisco throwing errors led to both of New York's runs.
"A loss like that is always tough," said Gorzelanny, who filled in Sunday to give Wily Peralta extra time to heal a strained left hamstring. "I think it's always tougher to lose like that than lose 7-0 or 8-0. It's definitely gut-wrenching a little bit."
The Mets turned two wild throws from Francisco -- his third and fourth errors in three games at third base for the Brewers -- into a pair of unearned runs, one in the fourth inning and another in the sixth, and Mets starter Jeremy Hefner worked around a Jonathan Lucroy solo home run.
When the Brewers traded for Francisco on June 3, word was that he was a decent defensive third baseman, but he adjusted to playing mostly first base for Milwaukee before making his third start at the hot corner Sunday.
Brewers manager Ron Roenicke said transitioning Francisco to first base may attribute to his struggles at third.
"Slow rollers, they're always tough plays," said Roenicke of the two grounders that resulted in Francisco miscues. "I think Aramis [Ramirez], when he's healthy, is really good on them, Yuni [Betancourt] is really good on them, but they're not easy plays."
The Brewers committed five errors in the series and have piled up seven over their last four games. A missed call at second base that led to the Mets' first run didn't help the Brewers feel any better.
In the fourth inning, Josh Satin took an 0-2 Gorzelanny fastball to the left-center-field gap that center fielder Carlos Gomez cut off and fired to second base. Rickie Weeks took the throw but missed the sliding Satin on a swipe tag attempt. Weeks' follow through got Satin on the upper thigh, though, when his feet-first slide stopped short of the bag.
But Satin was called safe, prompting a rebuttal from both Weeks and Roenicke. Andrew Brown followed with a chopper down the third-base line that Francisco fielded cleanly but threw wide of first base, scoring Satin from second.
"If Rick missed him, Rick wouldn't say anything," Roenicke said. "That's why I went out so quick. I know when Rick's arguing that he tagged him. I'm not saying that was an easy call. ... It's easy to see when you go back and look on replay, but he doesn't have that. When it's in fast motion, it's tough to see. But it hurt us."
Francisco bare-handed another chopper down the line in the sixth inning but threw wide of first base again to put Marlon Byrd on second with one out. Satin made it hurt with an RBI double two pitches later off Gorzelanny, giving the Mets a 2-0 lead.
That was all Hefner needed as the Brewers mustered just three hits off him, the only damaging one a seventh-inning solo home run from Lucroy -- his 10th of the season and second in as many days.
Hefner stifled the Brewers over seven innings, allowing just two hits and four baserunners. Hefner hit a batter, walked another and struck out eight while throwing 105 pitches -- 71 for strikes.
"Like Miami, they're fairly young and they're very aggressive," said Hefner of Milwaukee's lineup. "So if I can make them swing at balls, then I'm doing my job because they're going to chase them. I was able to do that. I did enough to get ahead in the count and then was able to expand the zone, and they chased."
Gorzelanny may have earned himself another start with his gem out of the bullpen. The left-hander allowed eight hits and the two unearned runs in six innings, walking none and striking out eight. He threw 83 pitches -- 64 for strikes.
Roenicke said he will go with either Gorzelanny or Donovan Hand to start Friday's game against the D-backs in Arizona, depending on if they need to use Hand out of the bullpen during this week's three-game series against the Reds.
"His stuff is better than what I remembered as a starter," Roenicke said. "The fastball is really live, and he mixes in the other pitches whenever he wants to and he can keep them down low in the zone. That's huge for trying to keep those guys out of the air and from driving the ball. I know he gave up some hits, but a couple of them were the tappers down third. He did a great job."
Satin finished with three hits, including two doubles, and added an RBI and stolen base for the Mets. He extended his career-high hitting streak to 11 games.
Kevin Massoth is an associate reporter for MLB.com. This story was not subject to the approval of Major League Baseball or its clubs.