Hefner keeps up top form as Mets edge Brewers
Hefner keeps up top form as Mets edge Brewers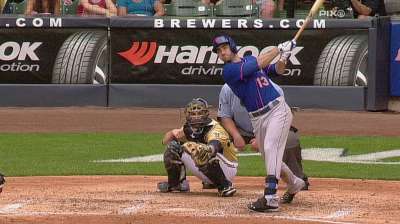 MILWAUKEE -- There was a time not so long ago when Jeremy Hefner, in his own words, "was one or two bad starts from being in Las Vegas." Such a Minor League demotion seemed reasonable, even probable, given Hefner's imperfections and the relative merits of others on the Mets' starting staff.
Hefner has since entered a new echelon, and done so with such flair that a Minor League demotion now seems unthinkable. Outside of All-Star teammate Matt Harvey, no Mets pitcher has been better than Hefner over the first half of the baseball calendar. Even including Harvey in the discussion, no Mets pitcher has been more consistent.
Though Hefner is not an All-Star himself, nor even an All-Star snub for that matter, he has nonetheless become invaluable to his team. That was clear throughout the Mets' 2-1 victory over the Brewers on Sunday, when Hefner delivered another seven innings of much-needed one-run, two-hit ball.
"I know that I'm good enough to be here," Hefner said. "I know I'm good enough to beat these hitters. If someone does beat me, I know I can get the next guy."
Hefner has now thrown at least five innings with no more than two earned runs in each of his last seven starts. He has not allowed more than three earned runs in a game in seven weeks, delivering eight quality starts in his last nine tries with a 2.09 ERA, 49 strikeouts and 10 walks. Only three qualified pitchers in baseball boast a better ERA over that span.
Over his last seven outings Hefner has reached even more elite status, posting a 1.64 ERA -- lower than any qualified starter in baseball not named Jose Fernandez.
"Maybe the motivation for Jeremy Hefner at one time was for fear that he was going to get sent out," manager Terry Collins said. "Maybe that was motivation enough to step up and do the job that he's done."
Hefner's sharpness Sunday was apparent from the first inning, when he struck out the side. He did not allow his first hit until there were two outs in the second, and did not give up another until Jonathan Lucroy homered to lead off the seventh. Along the way, Hefner generated eight strikeouts and seven groundouts, throwing 105 pitches in seven innings. Bobby Parnell recorded the final four outs for his 15th save in 18 chances.
The key for Hefner has been the tweaks made to both his delivery and approach. Seeking to increase his deception on the mound, Hefner recently worked with pitching coach Dan Warthen to twist his torso away from home plate while preparing to fire, resulting in a Luis Tiant-style delivery. Now that he has perfected it, Hefner's new pitching form has actually helped him gain velocity.
The second adjustment for Hefner has been relying more often on his two-seam fastball early in counts, ditching the four-seamer that aggressive hitters used to pound.
"Obviously he's been lights-out," catcher Anthony Recker said. "So whatever he's doing is working."
As they did Friday, the Mets took advantage of multiple Brewers defensive miscues to convert that pitching performance into a win. In the fourth inning, third baseman Juan Francisco committed a fielding error that allowed Josh Satin to score. Two innings later, Francisco's second throwing error put Marlon Byrd in position to come home on Satin's double.
"What was that, the third game we've had him over there?" Brewers manager Ron Roenicke said of Francisco, who has played mostly first base since arriving in Milwaukee. "I think that makes it tougher when you're not there every day."
Making his first appearance since Ike Davis returned from the Minors on Friday, Satin finished 3-for-4 with two doubles, one run scored, an RBI and a stolen base, extending his career-best hitting streak to 11 games.
"It's been a good run so far," Satin said. "I would love to get used to it."
Hefner might have said the same exact thing. Like Satin, he was never much of a prospect coming out of college, needing to work his way up the Padres' Minor League ladder slowly and opportunistically. When the Mets claimed him off waivers and he finally arrived here, Hefner struggled often enough that the Mets saw no reason to give him extended chances.
Finally, this season, a longer opportunity surfaced out of sheer necessity. And Hefner has seized that chance, riding it far away from the Minor League fringe.
"I was good in college," Hefner said. "I was an average prospect coming up. I had my opportunities and I didn't take advantage of them in San Diego. I learned … that I needed to take advantage of opportunities when they come to me."
Anthony DiComo is a reporter for MLB.com. Follow him on Twitter @AnthonyDicomo. This story was not subject to the approval of Major League Baseball or its clubs.