Rivera blows rare save as O's halt Yanks' surge
Rivera blows rare save as O's halt Yanks' surge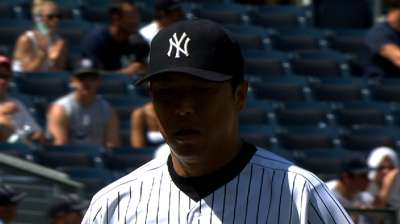 NEW YORK -- It looked like the Yankees might cruise to a series sweep of the Orioles on Sunday afternoon. Starter Hiroki Kuroda had shut out the Baltimore offense over seven stellar innings, and New York had its future Hall of Fame closer on the mound to preserve a one-run lead in the ninth inning.
But Mariano Rivera wasn't his usual automatic self on a sweltering afternoon in the Bronx. Facing center fielder Adam Jones with a runner on first and one out, Rivera gave up a go-ahead, two-run home run to blow his second save in 31 tries this season.
Jim Johnson retired the Yankees in order in the bottom half of the inning and the Orioles avoided a three-game sweep with a 2-1 victory that ended the Yankees' six-game winning streak.
"You don't see it happen very often. That's the bottom line. He's been so good for us again this year," manager Joe Girardi said. "Every time it happens, you're kind of shocked. That's how good he is."
Right fielder Nick Markakis nearly tied the game in the at-bat before Jones, launching a ball down the right-field line that narrowly missed hitting the foul pole. Markakis singled to center on the next pitch, and Jones lined Rivera's two-seam fastball into the left-field seats for his 16th home run of the season two pitches after that.
"I don't know exactly what the pitch was," Girardi said, "but I'm quite sure it wasn't where he wanted it."
"I wanted the ball more in," Rivera said. "It didn't get in enough."
The blown save overshadowed a dominant outing from Kuroda, who allowed just three hits and one walk over seven shutout frames while striking out four on 88 pitches.
"The way Hiroki was pitching, I mean, he was doing outstanding. He did great. It would have been a good game to win," Rivera said. "This would have been a great game to save, and I didn't."
The start was Kuroda's first since he took a loss against Baltimore last Sunday. The right-hander missed his scheduled start in the series opener on Friday due to a sore left hip, but said he had no concerns about his hip on the mound.
The Yankees only scored one run in support of Kuroda, but for most of the afternoon, it looked like that would be enough. Shortstop Eduardo Nunez hit a sacrifice fly to left score Zoilo Almonte in the second inning, which represented all of the game's offense until the ninth.
After totaling just four RBIs in 27 games before going on the disabled list in May, Nunez has driven in three runs in just eight plate appearances since his return on Saturday, batting .500 in those two games.
"I was trying to keep us in the ballgame," Kuroda said through a translator. "And with the one-run lead, I think I was able to do that."
That run was the only blemish on Baltimore starter Jason Hammel's pitching line, but the right-hander labored throughout his five innings, giving up six hits and two walks while throwing 102 pitches.
But Hammel and the bullpen kept the Orioles in the game, and the offense finally came through against Rivera. After mustering just three hits over eight innings against Kuroda and setup man David Robertson, Baltimore notched three off the all-time saves leader in the ninth.
"We didn't swing the bats very well. We squandered a lot of opportunities, but we had a chance to win at the end," Orioles manager Buck Showalter said. "Any time you sit in there with Robertson and Rivera, you don't like your chances. However, there was a good vibe in the dugout, and the guys were grinding."
It's a tough loss to swallow for the Yankees, who were one win away from tying the season series with their division rival and extending their winning streak to a season-long seven games.
And when the seemingly infallible Rivera is the one responsible for the loss, it stings even more.
"It was a good situation -- to have Robertson in the eighth and Mariano in the ninth," Kuroda said. "And if we don't get that win, there's nothing you can do about it."
Josh Vitale is an associate reporter for MLB.com. This story was not subject to the approval of Major League Baseball or its clubs.