Saunders stifles Reds as Mariners take series
Saunders stifles Reds as Mariners take series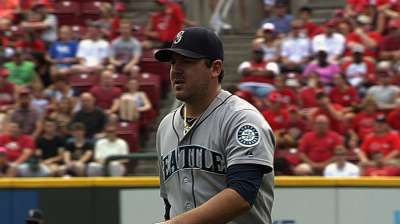 CINCINNATI -- Before Sunday's series finale against the Reds, Mariners manager Eric Wedge said one more win would mean a successful six-game road trip for his team. Having already taken two of three from the Rangers before splitting the first two in Cincinnati, Wedge and his Mariners were looking for consecutive road series wins for the first time all season.
Mission accomplished.
Backed by a homer-happy offense, starting pitcher Joe Saunders threw seven innings of one-run baseball en route to a 3-1 win at Great American Ball Park.
"It's a real good trip for us," Wedge said. "I think we would have liked to have won one more, but you don't get greedy this time of year. You work hard to win series. Our guys fought hard and played pretty good baseball."
It was a team effort that gave the Mariners the series victory over the Reds, but Saunders stole the show. The 32-year-old left-hander tossed six shutout innings before finally surrendering a run in the seventh. He allowed just six hits while striking out two and walking none to improve to 7-8 on the season.
Sunday's performance gave Saunders wins in back-to-back starts for the first time all year, and he's allowed just one earned run in five of his last seven outings.
"They've got some superstars over there offensively that can do a lot of damage, and [Saunders] did great," Wedge said. "It was a hot day out there; it was muggy, it was humid. We did a good job of making their guy work, and they made Joe work. But he was more efficient. He set the tone."
For the third straight game, Seattle opened the scoring with a home run in the first. Nick Franklin, who homered Friday before bunting a ball off his right knee, returned to the starting lineup on Sunday and hit a solo blast in his first at-bat of the game. It marked the Mariners' Major League leading 22nd first-inning home run this season.
Although Franklin's shot was the only run scored in the first, the Seattle bats made Cincinnati starter Bronson Arroyo labor through the inning, as the 36-year-old right-hander threw 32 pitches in the opening frame.
"You can't just lay it in there against guys you don't know anything about," Reds manger Dusty Baker said of falling behind in the first inning. "After you learn something about them -- they've already homered off of you. They've got a good, young bunch of guys. They're going to be something to deal with in the next couple of years."
Two innings after jumping on the board first, the Mariners scored again on a two-run homer from Justin Smoak, who had been limited to pinch-hit duties while Kendrys Morales manned first base in the first two games of the series.
Wedge spoke after the game about the "light going off" with some of the team's younger players, and he included Smoak in that group. Smoak entered the game batting just .133 (6-for-45) with runners in scoring position this season, and he called that dreadful. He said he's found himself getting antsy when he steps in the box with a chance to drive in runs, but he's beginning to feel more comfortable.
"I feel great at the plate. It's just a matter of getting it done when it counts," Smoak said. "I haven't done that this year at all. If you keep squaring balls up, the homers are going to come, the doubles are going to come. I just have to get those guys across home plate."
With all of their scoring coming by way of the long ball on Sunday, the Mariners have now scored 49.8 percent (162 out of 325) of their runs on homers this season, a figure which leads the Majors.
While the Mariners did just enough mashing at the plate, Saunders was dealing on the mound.
Despite surrendering three base hits in the first, he escaped the inning unscathed. From there, he retired 10 straight before giving up a double to Chris Heisey with one out in the fifth. Following a perfect sixth, Saunders finally allowed a run in the seventh on back-to-back one-out doubles from Todd Frazier and Heisey, prompting a visit from pitching coach Carl Willis.
"Carl came out and pretty much said, 'Hey, let's refocus here. Let's keep the ball down, use your sinker,'" Saunders said. "I just missed up with Heisey. He just said, 'Let's refocus and get through this inning.'"
Two batters later, the inning ended without any further damage, as Derrick Robinson grounded out to second on Saunders' 101st pitch of the game.
With Saunders' day done after seven, fellow lefty Charlie Furbush came on in the eighth to take on the top half of the Reds' order. He had little trouble, striking out Shin-Soo Choo before inducing a Zack Cozart groundout and Joey Votto flyout.
Right-hander Tom Wilhelmsen made it six straight scoreless appearances in the ninth, when he retired the side on five pitches for his 18th save. Before his scoreless streak, Wilhelmsen had blown three saves and built a 14.63 ERA in nine appearances.
"You've all seen how good Tom can be," Furbush said. "He went through a little rough patch there, but he's been looking good, feeling good. I think he's in a good spot right now to keep this going and really anchor down the end of the bullpen.
As far as Wilhelmsen is concerned, he's just happy to help Seattle put up victories. The Mariners, winners of four of their last six, moved to 39-49 on the year before heading back home to close out the first half of the season against the Red Sox and Angels.
"Winning is just so much fun," Wilhelmsen said. "It's so much better than losing, and I know it's a stupid thing to say, but everyone's in such a better mood. It's the best. Hopefully we can get more of it."
Jeremy Warnemuende is an associate reporter for MLB.com. This story was not subject to the approval of Major League Baseball or its clubs.