Five years after deal, Brantley plays hero vs. Detroit
Five years after deal, Brantley plays hero vs. Detroit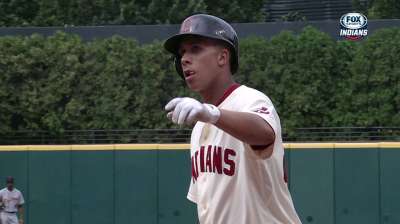 CLEVELAND -- Five years ago Sunday, the Indians agreed to a trade with Milwaukee that shipped out ace CC Sabathia and brought in four players, one of whom was to be named later.
That player turned out to be Michael Brantley.
Thanks in large part to Brantley, the Indians snapped a four-game losing streak in a 9-6 win against the Tigers on Sunday. Brantley hit two home runs, making the most of a quality start from Corey Kluber.
The victory snapped a seven-game skid against Detroit, the club that leads Cleveland in the American League Central by 2 1/2 games.
"It was a big win for the team," Brantley said. "I was just glad to be a part of it."
Typical Brantley, always saying the right thing.
Brantley went 3-for-4 with a double, five RBIs and three runs scored. His first homer was a solo shot off Tigers starter Doug Fister in the sixth inning. His second homer came with a man on in the eighth, and it regained the lead for a Tribe club that initially jumped out to a 6-1 advantage.
Detroit chipped away with two runs on three hits in the seventh, when Joe Smith replaced Kluber after a one-out double. Then, with Vinnie Pestano in for the eighth, the Tigers tied it on a three-run bomb off the bat of Torii Hunter.
"I think we're mad. But you're at home, and you're not losing," Indians manager Terry Francona said. "We just had to play.
"That would have been a tough one to go home today with a loss. But we didn't."
No small measure of credit goes to Kluber, who allowed five hits and two runs over 6 1/3 innings. He also had three walks and tied a career-high with 10 strikeouts. Kluber threw 109 pitches, 68 for strikes.
"He stayed ahead in the count," Francona said. "He was aggressive. He was really good. When you start throwing in with your best velocity, that's very impressive."
Just as Kluber helped Cleveland snap an eight-game losing streak with a stellar outing in Texas last month, he stepped up to stop this skid.
"Taking it one game at a time, like Tito always talks about, I think that's huge, and it's not just saying it for him or us," Kluber said. "I think that really is how you have to go about it, just one game at a time."
After Miguel Cabrera went deep in the first to give Detroit a lead, the Indians answered with four runs in the bottom of the frame.
Though Fister recorded two quick outs, he walked Jason Kipnis and Nick Swisher. In stepped Brantley, who lashed a two-run double to left. On the next pitch, Carlos Santana drove in two more with a homer to right.
"We extended an inning, and when we're going good, that's what we do," Francona said.
The blast was Santana's 11th of the year. An inning later, Lonnie Chisenhall curled a shot around the right-field foul pole for his fifth homer of the season.
"They were hitting it out of the ballpark on a pretty regular basis today," Tigers skipper Jim Leyland said. "It's really tough to win when you give up four home runs."
For the second time this season, Brantley had a multi-homer game, giving himself seven long balls for the year. His three extra-base hits and five RBIs both marked career highs. With runners in scoring position, Brantley is batting .367 (22-for-60).
"I think he likes hitting with men on base," Francona said. "But he doesn't change anything. He doesn't try to do too much.
"Wherever we put him, he gives you an at-bat, and lately he's hit a few balls out of the ballpark to boot."
Brantley's eighth-inning homer proved to be the decisive blow. After Swisher drew a walk, Brantley worked a 3-1 count against Al Alburquerque.
"You don't want to walk him there," Tigers catcher Alex Avila said. "In that particular situation, Al was having a hard time throwing the slider for a strike, so we had to go with the fastball. It wasn't much mystery there. You just have to give [Brantley] credit for getting it out in front. It's still a 95-mph fastball, but he put a good swing on it. He was locked in today."
The Indians scored their final run on a sacrifice fly by Drew Stubbs.
In his past 17 games, Brantley is hitting .311 (19-for-61) with five home runs, 15 RBIs, three doubles and 13 runs scored. Though Brantley wasn't named to the All-Star Game, AL skipper Leyland hasn't overlooked him.
"[Leyland] was commenting to me this morning how much he likes him," Francona said. "So we'll take him."
Mark Emery is an associate reporter for MLB.com. This story was not subject to the approval of Major League Baseball or its clubs.