Satin gets the start against Brewers' lefty Gorzelanny
Satin gets the start against Brewers' lefty Gorzelanny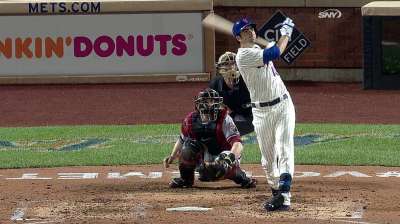 MILWAUKEE -- The Brewers' reshuffled starting rotation meant that left-hander Tom Gorzelanny took the mound Sunday instead of right-hander Wily Peralta.
What it meant for the Mets was that Josh Satin earned the start at first base over Ike Davis, who has reached base in seven of his 11 plate appearances since returning to the big leagues Friday.
"We've said since we talked about Ike coming back, Josh Satin deserves some at-bats," manager Terry Collins said, noting that the switch does not signify a first-base platoon. "I think he's earned them. So here's a situation where this guy is hitting .450 against left-handed pitching, and certainly deserves his opportunity to be in the lineup. So I thought I'd put him in there today."
When Davis returned to the Majors, supplanting Satin as the everyday first baseman, Collins hinted that Satin might begin seeing time in the outfield. He backed off that assertion on Sunday, saying it's "hard to say" if Satin will ever start in the outfield.
"It's one thing shagging balls in batting practice, and he has done that, and he's done a nice job going after them," Collins said. "I've watched him. It's another thing to do it in a game, where we continue to try to put guys out of position, and it comes back to burn you sometimes. So you've got to be careful."
Satin, a natural corner infielder, started two games in the outfield this season for Triple-A Las Vegas.
Anthony DiComo is a reporter for MLB.com. Follow him on Twitter @AnthonyDicomo. This story was not subject to the approval of Major League Baseball or its clubs.