McCann remains among top offensive catchers
McCann remains among top offensive catchers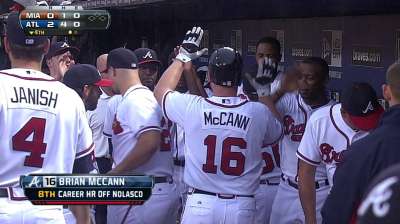 PHILADELPHIA -- This marks the second year Braves catcher Brian McCann did not earn what had become an annual All-Star selection. But over the past week, McCann has provided some indication that his days as one of the game's top offensive catchers are not over.
Riding the momentum of Saturday night's four-hit performance, McCann entered Sunday's series finale against the Phillies having hit .571 (16-for-28) with two home runs and a 1.600 OPS in his previous seven games. His batting average has spiked from .233 to .293 during the impressive stretch. He singled in his first at-bat Sunday.
McCann's recent success provides further indication that he has fully recovered from the offseason shoulder surgery that sidelined him during the first five weeks. After hitting .280 (21-for-75) in his first 22 games, he batted .167 (9-for-54) in the 18 games that followed. But over the last week, he has performed more like he did while garnering six consecutive All-Star selections from 2006-11.
"I had a two-week period when I didn't feel good," McCann said. "The last week or so, I've been feeling really good at the dish."
There was not much reason to object when St. Louis' Yadier Molina and San Francisco's Buster Posey were the only National League catchers to gain All-Star selections Saturday. But with his recent surge, McCann has at least positioned himself to gain a selection if an injury opens a spot on the NL roster.
McCann has not compiled enough at-bats to rank among the qualified statistical leaders. But given he has tallied more than 20 at-bats more than Yasiel Puig, who is garnering strong support for an All-Star selection in the Final Vote, there is reason to point out McCann's numbers rank up there with those of Molina and Posey.
Among all NL catchers who have at least 150 at-bats, McCann leads the way with a .913 OPS. His 15.75 at-bats per home run ratio ranks second only to teammate Evan Gattis (15.70), and his .293 batting average ranks third, trailing Molina (.346) and Posey (.309).
With his fifth-inning double in Saturday's win, McCann notched an extra-base hit in a seventh straight game. According to the Elias Sports Bureau, the last Brave to do this while playing all seven games as a catcher was Earl Williams in 1972.
"I feel like I've done everything I've wanted to do coming back from a major injury," McCann said. "To feel as good as I do, having the surgery that I had, I'm very happy."
Mark Bowman is a reporter for MLB.com. This story was not subject to the approval of Major League Baseball or its clubs.