Gattis likely won't return before All-Star break
Gattis likely won't return before All-Star break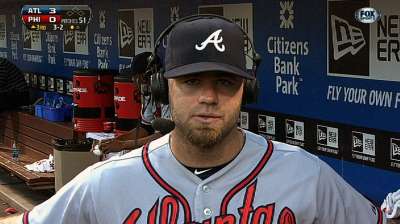 PHILADELPHIA -- After spending the past two weeks resting his previously strained right oblique muscle, Evan Gattis now finds himself having to exercise patience.
Gattis has not experienced any discomfort since being cleared to begin easing back into hitting, throwing and running drills over the past few days. But it appears the Braves' rookie backup catcher will remain sidelined through the All-Star break.
Braves manager Fredi Gonzalez said he did not expect Gattis to be cleared to begin taking batting practice on the field before Thursday. Once Gattis completes this drill, he will have to play at least a few Minor League rehab games to shake off the rust that has developed since he was sidelined on June 18.
"I've got to get it right before I come back, so I can stay healthy the rest of the year," Gattis said.
Gattis' absence has weakened a bench that has also lost Ramiro Pena and Jordan Schafer to injuries the past two weeks. Gattis has six hits, including four home runs, in eight pinch-hit at-bats.
Mark Bowman is a reporter for MLB.com. This story was not subject to the approval of Major League Baseball or its clubs.