Mesoraco sidelined with back spasms
Mesoraco sidelined with back spasms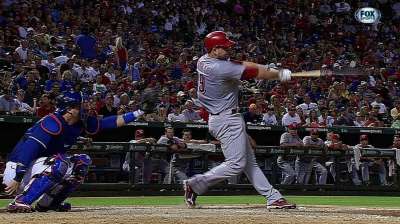 CINCINNATI -- Reds catcher Devin Mesoraco is normally behind the plate when pitcher Mat Latos starts, but that wasn't the case on Saturday. Mesoraco was bothered by back spasms, so Ryan Hanigan caught instead.
"I did it on a swing the night before. It was real, real tight," Mesoraco said on Sunday. "I think it's just a day or two thing. We went at it with a bunch of stuff yesterday and it's much better. It's not perfect. If I had to play, I could definitely play. Yesterday, I probably couldn't have."
Hanigan usually catches Sunday starter Bronson Arroyo.
Mesoraco has also been dealing with a banged-up right knee since June 29. In that game vs. the Rangers, the knee was hit by Leonys Martin as he scored a run.
"That's doing fine," Mesoraco said. "On a play at the plate, I kind of hit my front kneecap and it just swelled up pretty good. It wasn't hurt. So it was just dealing with some pressure in there."
Mark Sheldon is a reporter for MLB.com. Read his blog, Mark My Word, and follow him on Twitter @m_sheldon. This story was not subject to the approval of Major League Baseball or its clubs.