Wedge: Ibanez, Perez have All-Star numbers
Wedge: Ibanez, Perez have All-Star numbers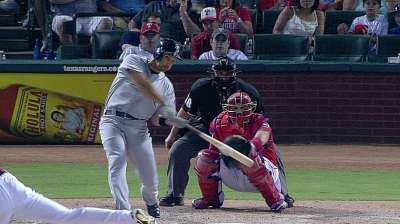 CINCINNATI -- When it comes to who's most deserving of playing in the All-Star Game, Mariners manager Eric Wedge has no trouble admitting he carries some bias. With that disclaimer in mind, Wedge said on Sunday that he thought Oliver Perez and Raul Ibanez should have at least had a chance to join Felix Hernandez and Hisashi Iwakuma in the Midsummer Classic.
Neither player was included as one of the five picked for the American League Final Vote on Saturday, leaving Wedge a little surprised.
"I think they're both great stories," Wedge said. "And not only that, they're both producers. They're both producing on the field."
Ibanez has produced in a way few players ever have at his age. At 41, Ibanez led the Mariners with 10 homers and 22 RBIs in June, making him the second-oldest player (Barry Bonds) since 1993 to pace his team in both categories for an entire month.
For the season, Ibanez entered Sunday batting .257 with 21 homers and 49 RBIs. He also carried an 11-game hitting streak into Sunday's series finale, connecting on seven home runs and batting .370 with a .431 on-base percentage in that stretch.
"What Raul has done, just to be in great shape, work so hard to be who he is and then have that translate on the field this year," Wedge said. "At his age, it's a tremendous accomplishment."
Perez's accomplishments this season have also been impressive, especially for a player still adjusting to a new role. In 35 games heading into Sunday, the lefty owned a 1.39 ERA, striking out 46 and walking 14 in 32 1/3 innings. He's allowed a run in just four of his appearances, and Wedge said Perez has been one of the best left-handed setup guys in the AL.
On June 14, in his 11th season, Perez registered his first save as a Major Leaguer, as he spent most of his first nine years in the big leagues as a starter.
"Like I've said before many times, Oliver is on his second career," Wedge said. "I was surprised he wasn't on [the Finale Vote ballot]. I thought he was deserving, but I'm sure other managers will feel the same way about some of their guys. It happens every year."
Jeremy Warnemuende is an associate reporter for MLB.com. This story was not subject to the approval of Major League Baseball or its clubs.