Astros' mistakes overshadow improved hitting
Astros' mistakes overshadow improved hitting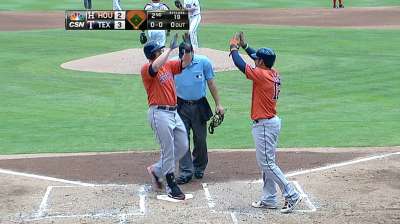 ARLINGTON -- It was a simple recipe for defeat for the Astros on Sunday: A couple of early walks, a few botched baserunning opportunities and a costly error. It didn't matter that Houston had another decent day at the plate, or that Erik Bedard pitched adequately into the seventh inning -- the damage was already done.
In a 5-4 loss to the Rangers, Bedard walked two of the first three hitters he faced, then surrendered a home run to A.J. Pierzynski to put Houston in an early 3-0 hole.
"I just didn't throw strikes early and they capitalized on it," Bedard said.
Bedard wound up walking five while giving up five runs on five hits, including another homer to Adrian Beltre, in 6 1/3 innings. He struck out four.
"The two walks in the first definitely hurt," manager Bo Porter said. "I thought that Erik did a great job just battling through all the conditions in which he battled through to go 6 1/3 and give us the outing that he gave us."
Baserunning hurt as much as Bedard's walks, as the Astros were caught stealing to end the second, fourth and fifth innings. Twice, Porter had hit-and-run plays on in which the batter struck out and Rangers catcher Pierzynski threw out the runner.
"We are an aggressive ballclub, and I'm never going to have our guys feel like they can't be aggressive," Porter said. "It's one of those things ... if the ball's put in play, great, if not, the guy's probably going to be out. It's one of those things where you push the envelope because you're looking to ignite the offense."
The other major Astros mistake came in the fifth inning, when second baseman Jose Altuve let an Ian Kinsler grounder go through his legs. Kinsler scored the go-ahead run on Nelson Cruz's single two batters later.
"Altuve, who has some of the surest hands in the game, let him get one through him and we end up scoring a run in that inning that ended up being the winning run," Rangers manager Ron Washington said.
The miscues made for a frustrating finish to the three-game set for Houston, which last earned a series win on June 20. Since then, the Astros are on a 4-11 skid.
In the second inning, Marc Krauss picked up where he left off on Saturday night, when he had three hits. His two-run homer, the first of his big league career, moved Houston within 3-2.
"I've hit a few home runs in my career, but this obviously is the biggest one being the first one in the Majors," Krauss said. "I'm excited to get that one out of the way. Unfortunately it didn't come in a winning effort ... but I'll still never forget that moment."
Krauss said shortstop Jake Elmore, who hit his first Major League homer Saturday night, had a message for him after Krauss hit his own milestone shot.
"He said, 'You didn't let me have that lead in career home runs very long, did you?'" Krauss said. "And I said, 'No. I couldn't allow that to happen.'"
The Astros briefly tied the game in the fifth, when Brandon Barnes led off with a single and went to second on Matt Dominguez's single. The runners moved up on an error by starting pitcher Justin Grimm, who threw an errant pickoff attempt to second base. Barnes scored on another error when third baseman Jurickson Profar missed Pierzynski's pickoff throw to third.
Houston threatened in the eighth, when Altuve singled and stole second and third -- his 20th and 21st stolen bases of the season -- with one and two outs, respectively. But Altuve was stranded when reliever Neal Cotts got Carlos Pena looking on a fastball up in the zone.
Joe Nathan pitched a scoreless ninth to send the Astros to their seventh loss in nine games against the Rangers this season.
"We had some chances offensively, we just weren't able to come up with the big hit," Porter said.
Dave Sessions is a contributor to MLB.com. This story was not subject to the approval of Major League Baseball or its clubs.