Royals need to regroup after tough loss to A's
Royals need to regroup after tough loss to A's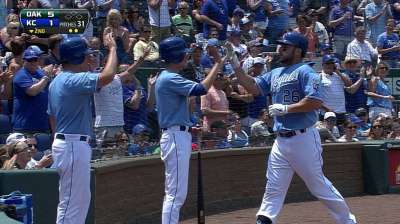 KANSAS CITY -- It is time to find out how tough the Kansas City Royals really are.
Manager Ned Yost said as much after Sunday's 10-4 loss to the Oakland Athletics with 17,804 sun-worshiping fans at Kauffman Stadium. The Royals lost two of three games to the A's after taking the Cleveland series, 2-1.
"We're in the middle of a tough stretch," Yost said. "It started here, we're 3-3 in this tough stretch."
Then he looked ahead to the coming seven-game trip to New York and Cleveland just before the break for the All-Star Game.
"The Yankees are tough, we've got a four-game series. And it's going to be a tough three-game series in Cleveland," Yost said. "We've got to continue to play good baseball if we're going to be successful this next week. Then, take a little break and get right back after it with Detroit and Baltimore. So it's a tough stretch. We're going to have to grind it, keep playing hard and try to find a way to win some ballgames."
Indeed, those four formidable opponents have a combined record of 30 games over .500 and the Royals need to hold their own if they are to be serious contenders in the American League Central.
Certainly they need to avoid games like Sunday's blowout loss, something they've seldom endured this season. This was just the seventh time they've lost by five or more runs and only the third time an opponent has scored in double figures.
A team that is used to close encounters -- 48 of their 85 games have been decided by one or two runs -- fell behind the A's, 7-1, in the first three innings. But the Royals lead the Majors with 28 comeback victories this season and they made a couple of moves in that direction on Sunday.
"Yeah, but a good team like they are keeps adding on. It was a tough game," designated hitter Billy Butler said. "We played two tough teams, came out .500 on the homestand. We had a chance to go 4-2, but it was just a tough game -- we got down early."
Royals starter Luis Mendoza didn't last through the second inning as the A's piled up five runs. Their five hits off Mendoza included a two-run double by Josh Reddick and a run-scoring double by Eric Sogard. A sliding catch by All-Star left fielder Alex Gordon on Brandon Moss' fly ball down the line kept the inning from being worse.
After RBI singles by Coco Crisp and Jed Lowrie, Mendoza was relieved by left-hander Bruce Chen. Mendoza's 1 2/3-inning outing followed a four-inning, four-run turn against Cleveland.
"I feel good physically, I'm just struggling right now. Struggling is not new in baseball and I just have to figure how to get out of it," Mendoza said.
Yost thought Mendoza might be feeling the effects of pitching winter ball in Mexico followed by stints in the Caribbean Series and the World Baseball Classic.
"The problem that we're running into, I think, and I have to look into a little deeper is that he threw all winter, he threw in the WBC, so in actuality this is like he's pitching in September. Something we've got to look at," Yost said.
Mendoza, however, maintained that he feels strong.
"In my mind, I feel good but my body maybe feels different. I just want to do the job," he said. "I just feel bad to let my teammates down. Every game is important and I'll just keep working. I need to get out of this."
Chen yielded a two-run homer to Reddick in the third inning, giving the A's right fielder four RBIs in two at-bats. Later, lefty Will Smith gave up homers to Lowrie and Sogard and three runs. Only J.C. Gutierrez's perfect ninth went well.
"Rough outing, really, for our pitching staff today," Yost said. "Bruce got us through 3 1/3 innings, but got his pitch count up real high. Smitty wasn't exceptionally sharp. Guty was good, but just a rough day all the way around."
Royals catcher George Kottaras, playing against his former A's teammates, unloaded a solo home run against A.J. Griffin in the third inning. That gave Kottaras a homer in each of his last three starts. He was subbing for All-Star Salvador Perez, resting a sore right leg.
The Royals got another solo homer, also to right field, from Gordon after two outs in the fifth inning. After that inning and 105 pitches on an 88-degree afternoon, Griffin left the game despite a six-run lead.
"It was a big deficit, but we didn't really give up," Kottaras said. "We put up some runs up a little later in the game and those games are going to happen."
The Royals got right to work on left-hander Jerry Blevins and he didn't get an out. Lorenzo Cain singled and scored on Mike Moustakas' double off the right-center field wall. When Kottaras walked, the A's switched from Blevins to right-hander Jesse Chavez, a former Royal.
Chavez struck out Elliot Johnson but Jarrod Dyson singled, loading the bases. Gordon looked at strike three, but Miguel Tejada beat out a bouncer to second baseman Sogard, diving to first base as Chavez covered. It was an RBI single to the chagrin of Chavez and A's manager Bob Melvin, who thought Tejada was the third out. The TV replay seemed to substantiate their protest to umpire Eric Cooper, but it was 8-4.
As hard as the Royals worked for those two runs, the A's got them back in the seventh with one swing of Sogard's bat -- a two-run homer off Smith. It was 10-4 and the Royals didn't stir again in the last three innings against Chavez, who was rewarded with his first career save.
Now comes another test at Yankee Stadium -- and then more to follow.
"Every game is important for us now," Yost said.
It's a tough stretch. How tough are his Royals?
Dick Kaegel is a reporter for MLB.com. This story was not subject to the approval of Major League Baseball or its clubs.