Swisher up for first Feller Act of Valor Award
Swisher up for first Feller Act of Valor Award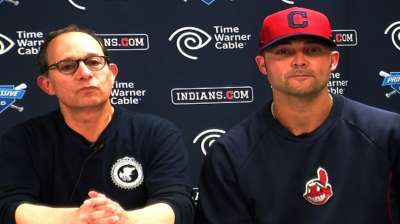 CLEVELAND -- Nick Swisher and Justin Verlander were honored prior to Sunday's game against Detroit for being among the five nominees for the inaugural Bob Feller Act of Valor Award.
Along with Swisher and Verlander, Washington's Ross Detwiler, Philadelphia's Cole Hamels and Minnesota's Justin Morneau were named as finalists for the award in an announcement made Saturday by the Indians, U.S. Navy and Baseball Hall of Fame. Those three entities created the award earlier this year to celebrate Feller, who enlisted in the Navy directly after the attack on Pearl Harbor and sacrificed nearly four years of his baseball career to fight in World War II.
"The Indians share strong feelings for Bob's contribution to our organization and this country, and are proud to share in the creation of this award, which focuses on three things Bob held most dear: the Cleveland Indians, the National Baseball Hall of Fame, and the United States Navy," Bob DiBiasio, the Indians' senior vice president of public affairs, said in a press release. "We look forward to honoring these nominees for their display of high character and dedication to servicemen and women."
One of the five players will receive the award on Veterans Day at the U.S. Navy Memorial in Washington. Former Yankees catcher Yogi Berra was chosen as the National Baseball Hall of Fame award winner, while the U.S. Navy's nominees for the award have yet to be announced.
Feller enlisted as a 23-year-old, despite possessing a deferment with which he could have been exempt from service. He saw combat in the Pacific Theater aboard the USS Alabama. The USS Alabama Battle Commission is also supporting the award.
"The men and women that we've met, fighting for our country, giving us what we have here, having the opportunity to wake up every morning and walk outside your front door and not worry about getting bombed, it's an amazing thing," Swisher said, "because after going over to Afghanistan, I don't know if I could be able to do something like that.
"For these men and women, I think they deserve it. I think this is such an amazing opportunity, just to bring a lot of attention to them, the men and women who actually deserve it. Just to be in that running is great, man. I'm so excited."
Jordan Bastian is a reporter for MLB.com. Read his blog, Major League Bastian, and follow him on Twitter @MLBastian. Mark Emery is an associate reporter for MLB.com. This story was not subject to the approval of Major League Baseball or its clubs.