Bats boost Phillies to key series win over Braves
Bats boost Phillies to key series win over Braves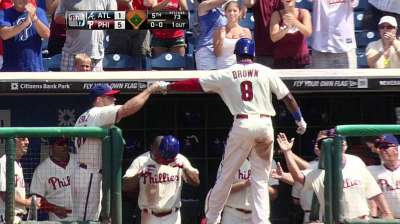 PHILADELPHIA -- These are serious times at Citizens Bank Park.
The Phillies need to win a bunch of games before the All-Star break to keep their roster intact entering and exiting the July 31 Trade Deadline. They hope they took a step in the right direction with Sunday afternoon's 7-3 victory over the Braves.
Philadelphia took two of three from first-place Atlanta, which is a small step forward if the club expects to crawl back into contention in the National League East and NL Wild Card races. The Phillies have won four of their last six games, but they have much more work to do. They open a four-game series Monday against the second-place Nationals and they must split that series at a minimum as a 6-4 homestand before the break is necessary.
"It's very important," Domonic Brown said of the series victory. "They're division rivals. Those guys are in first place in our division. [Saturday] night was a tough one, but that shows you the chemistry and veteran leadership we have in this clubhouse, to not get down and keep battling. It was a big win."
It was an interesting day for the Phillies. General manager Ruben Amaro Jr. and manager Charlie Manuel called a team meeting before the game because they did not like how some players acted in the dugout during Jonathan Pettibone's in-game interview during Saturday's 13-4 loss. The players took the tongue-lashing -- whether they agreed with it or not -- and jumped to an early lead against the Braves and never looked back.
"I think they got the message," Manuel said. "I think they understand the importance of these games. They know the importance of the games all the way up to the Trade Deadline. I think basically what it is, though, is we just go out there and try to win every day. Keep the same philosophy we've always had. We've got to play as hard as we possibly can. Our No. 1 priority is win the game."
Pettibone allowed just five hits, one run, one walk and struck out six in 5 1/3 innings to give the offense room to work.
The Phillies delivered with two outs in the first inning to take a 2-0 lead. Chase Utley singled to right field and Brown ripped a line drive to right. The ball actually hit the tip of first baseman Freddie Freeman's glove and continued up the right-field line to allow Utley to score on a triple.
Braves right-hander Kris Medlen walked Michael Young, and Delmon Young followed with a single to center to score Brown.
The Phillies took a 4-0 lead in the fourth, with both runs again scoring with two outs. Delmon Young worked a leadoff walk after falling behind 0-2. Darin Ruf, who should be getting plenty of playing time while Ryan Howard is on the disabled list, followed with a double into the right-field corner to put runners on second and third.
Carlos Ruiz flied out and Pettibone struck out, but Ben Revere ripped a triple to left-center field to score both runners. Revere entered the afternoon hitting .340 since April, which ranked seventh in the big leagues in that span.
"Ben has been outstanding, especially the last three weeks or so, a month," Manuel said. "He is really coming along. He's got a lot of talent. When his speed and his talent shows up in a game, he can definitely help us win."
Brown hit his 23rd homer in the fifth to give the Phillies a 5-1 lead.
Phillies relievers Jake Diekman and Justin De Fratus worked out of Pettibone's jam in the sixth and Antonio Bastardo and Jonathan Papelbon threw 2 1/3 scoreless innings to finish the game.
"They're a good team," Braves catcher Brian McCann said. "They're a competitor. Every time you play them, you know you're going to run into a couple horses. We feel good where we are at. They just beat us today."
It's on to the Nationals, who have won four consecutive games and are 12-6 since the Phillies won the first two games of a three-game series last month at Citizens Bank Park.
Manuel is optimistic.
"During the course of a year, usually you will get a couple streaks when you can win some games," he said. "When I say that, I'm talking about anywhere from six, eight to even 10 games, things like that. I think ours, of course, is yet to come."
Todd Zolecki is a reporter for MLB.com. This story was not subject to the approval of Major League Baseball or its clubs.