CarGo's big game not enough to lift Rockies
CarGo's big game not enough to lift Rockies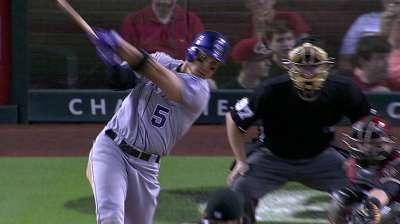 PHOENIX -- The excitement that came with having three Rockies All-Stars -- two of them starters -- cracked each time pitcher Drew Pomeranz fell behind in the count, and crumbled when he delivered fat pitches that the D-backs crushed.
After Pomeranz issued two walks to load the bases in the second inning, D-backs pitcher Wade Miley lashed a three-run double, then Paul Goldschmidt crushed a third-inning fastball for two more runs as the Rockies fell, 11-1, at Chase Field on Saturday night in front of 22,395.
"I was getting in bad counts and rushing the whole time out there, trying to settle myself down," said Pomeranz, who gave up five hits and five walks in four innings, after lasting just 4 1/3 innings last Sunday in his first start since being called up from Triple-A Colorado Springs.
During the afternoon, Major League Baseball announced that injured shortstop Troy Tulowitzki and outfielder Carlos Gonzalez -- who went 4-for-4 and hit his National League-leading 24th homer to end the team's 15-inning scoreless streak against the D-backs -- were chosen as All-Star starters, and outfielder Michael Cuddyer made it as a reserve. It marked the first time the Rockies have had two starters chosen by fans.
But after Pomeranz (0-2) spent his outing mostly behind in the count, the Rockies achieved a couple more dubious firsts. They're four games below .500, their lowest point this season. And the National League West-leading D-backs, who shut the Rockies out, 5-0, on Friday night, moved to a season-high 4 1/2 games ahead of Colorado.
Two games into a 10-game NL West road trip going into the break, the Rockies' day-to-day approach to the season is being tested. The Rockies headed into the trip shorthanded, with Tulowitzki, the cleanup hitter, out with a broken rib and center fielder Dexter Fowler, the leadoff man, nursing a right wrist injury. On Sunday, they'll try to avert a sweep -- behind veteran pitcher Roy Oswalt, who has struggled in three starts since joining the club -- against D-backs All-Star Patrick Corbin.
"All these games are very important, but at the same time we need to play better baseball," Gonzalez said. "If we don't pitch and we don't hit, it's difficult to win this way. They're doing the opposite -- they're pitching and they're hitting."
After managing just three hits in eight innings against D-backs starter Tyler Skaggs on Friday night, when Gonzalez sat because of a muscle strain in his back, the Rockies were almost as ineffective Saturday. They managed five hits and struck out five times in eight innings against Miley (5-7).
"Even if you go back to when Corbin faced us at our place, he got strike one every time," Rockies third baseman Nolan Arenado said. "Once they get ahead, that's when they start nibbling and messing with us."
With Tulowitzki hoping to begin a rehab assignment soon and Fowler also hoping to come back before the break, there could be offensive help on the way. But in two starts since his promotion, the once-ballyhooed Pomeranz hasn't pitched well enough to help even the most potent of offenses. Pomeranz was drafted fifth overall in 2010 and was the key piece the Rockies received from the Indians in the Ubaldo Jimenez trade.
In the second, the D-backs' Cody Ross doubled -- as part of a career-best 5-for-5 night -- with one out. With two out, Pomeranz had a 1-2 count on Gerardo Parra and lost him with a seven-pitch walk, then walked Didi Gregorius on five pitches. These were lefty-on-lefty matchups against the No. 7 and No. 8 hitters, sequences that Pomeranz needed.
"I feel like I've worked on a lot of things and gotten better," said Pomeranz, who was 8-1 at Colorado Springs. "I haven't been throwing like this. It's something I need to figure out, try to give us a better chance to win a game."
With the bases loaded, Miley came to the plate with a .100 average, and sliced a double to left field for a 3-0 D-backs lead.
"I was looking for something up," Miley said. "I didn't even know where it went when I swung. I just swung."
By the end of the second inning, Pomeranz had 45 pitches, 25 strikes, and seemed in severe trouble.
"You could point it to delivery, but if you don't have your emotions under control when you're pitching, you're going to not be good," Rockies pitching coach Jim Wright said.
Pomeranz walked Aaron Hill on five pitches to start the third, and threw a 1-1, belly-button-high fastball to Goldschmidt, who celebrated his All-Star selection by blasting the pitch high and into the left-field seats for his 21st homer of the year.
Pomeranz left after throwing 92 pitches in four innings.
"I've seen him pretty good, and I know that's in there," Rockies manager Walt Weiss said. "But you've got to make some progress and be more efficient."
Reliever Manuel Corpas gave up three runs, two in the seventh on Martin Prado's eighth homer of the year. Miguel Montero hit a three-run homer in the eighth against Wilton Lopez.
Thomas Harding is a reporter for MLB.com. Read his blog, Hardball in the Rockies, and follow him on Twitter @harding_at_mlb. This story was not subject to the approval of Major League Baseball or its clubs.