On cusp of victory, Sox take stunning loss
On cusp of victory, Sox take stunning loss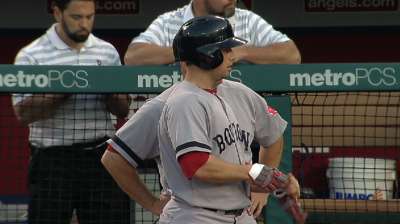 ANAHEIM -- Out of the blue, it all fell apart for the Red Sox on Saturday night in an almost unfathomable 9-7 loss to the Angels.
Boston held a 7-3 lead with two outs in the bottom of the ninth when things unraveled for relievers Alex Wilson and Koji Uehara, not to mention third baseman Brandon Snyder.
Snyder's throwing error on a force at second sent the game to extra innings.
Hindsight is always 20-20, but Snyder might have had an easier play at first.
"It's one of those things," said Snyder. "As I'm getting over there, I'm trying to make the decision. I thought I was closer to the base and my first instinct was to underhand it. When I looked up, I realized how far I was and Josh [Hamilton] was coming down and I didn't know if I was going to make it, so I kind of rushed and just never got a grip. I can promise you there is not a worse feeling."
In the 11th, Hamilton belted a two-run, walk-off homer to right-center against lefty Craig Breslow.
"I was trying to get it down and away," said Breslow. "It didn't, obviously. Regardless of the way he's swinging, he's a dangerous bat. Trying to get the ball down and away, maybe get him to roll over or swing and miss and open up potentially coming back in late. I didn't get it out there. You saw what happened."
For Hamilton, it was sweet redemption after he badly misplayed a Daniel Nava double for an error in the eighth, helping the Red Sox to push their lead to 7-3.
"Guys encourage you," said Hamilton. "They encourage you to go up there and redeem yourself. It's always good to get your teammates encouraging you like that because we all make mistakes sometimes, but they understand that you've got to do what you can to bounce back, do what you're capable of and try to help your team win."
With what seemed like a comfortable four-run lead entering the bottom of the ninth, the Red Sox initially went to right-hander Wilson to finish it off instead of Uehara. After striking out Erick Aybar for the first out, Wilson gave up a single to Chris Iannetta.
Alberto Callaspo flied out to center and the Sox, still up by four runs, were just one out from victory. J.B. Shuck lined a single to center to keep hope alive. Wilson then drilled Mike Trout to load the bases.
"I thought I made really good pitches," said Wilson. "They put a couple good swings on the ball. One got away from me and unfortunately I hit Trout to load the bases."
Manager John Farrell then turned it over to Uehara, and he gave up a two-run single to Albert Pujols. Hamilton followed by lining an RBI single to right, and the Angels were down by just a run at 7-6.
Finally, it seemed the game would end when Uehara induced Howie Kendrick into a grounder to third. Snyder went for the force at second, but his throw was way off the mark, allowing the tying run to score.
"At the time he fielded the ground ball, it looked like he got some misdirection," said Farrell. "He had a choice there. Continue and complete the play to first base. He elected to go to second base and just, his footwork didn't quite get underneath him. Of course the ball was obviously too high for [Dustin Pedroia] and that allowed the tying run to score. Tough ballgame to lose here tonight."
Ryan Dempster was in position to earn the win by turning in his seventh quality start in the last eight outings. Dempster allowed seven hits and three runs over 6 1/3 innings, walking two and striking out four.
"That's your job as a starting pitcher to try to be as consistent as you can," said Dempster. "Everyone's been throwing the ball really well, so you want to kind of pull your own weight. I've got one more start before the break, and try to finish strong before the break."
Nava came through with a four-hit game to help the Boston offense.
With the Sox clinging to a 6-3 lead in the seventh, Dempster came out after walking Iannetta and striking out Brendan Harris.
Andrew Miller came on and gave up a single up the middle that turned out to be a bad development for the lefty. As he ran to back up home plate, Miller tripped and fell, injuring his left foot.
Miller was taken to a local hospital for X-rays, the results of which likely won't be disclosed until Sunday.
Out of the bullpen came Andrew Bailey, who had to deal with the dangerous Trout, who represented the tying run. But Trout hit Bailey's first pitch to Jose Iglesias, who teamed with Pedroia to get a crucial double play.
Bailey wound up getting five outs.
"It felt good to get out there and pick up Miller. Hopefully he's all right," said Bailey. "Then to go back out there, it was my first time all year going one plus. It felt good, just looking to continue to roll personally. We've got to come back tomorrow and get that one."
A big reason the Red Sox, who lead the Yankees by five games in the American League East, are where they are is because they've turned the page after tough losses all season.
"We've had games like this already this year," said Farrell. "Our guys are a veteran group that have the ability to put tonight past us. When we come back here tomorrow, we'll be ready to win a series."
Ian Browne is a reporter for MLB.com. Read his blog, Brownie Points, and follow him on Twitter @IanMBrowne. This story was not subject to the approval of Major League Baseball or its clubs.