Rangers try out Profar in left field vs. Astros
Rangers try out Profar in left field vs. Astros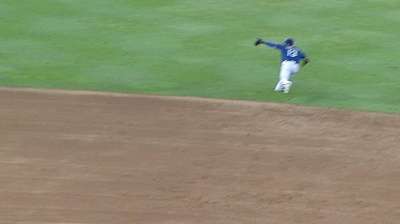 ARLINGTON -- Jurickson Profar made his first start in the outfield Saturday. The Rangers rookie played in left field and batted eighth against the Astros. Profar has worked with third-base coach Gary Pettis the last month to get acclimated with the position.
"[Pettis] told me he's ready," Rangers manager Ron Washington said. "We're going to give him a shot tonight."
Profar said they worked mainly on reading the ball off the bat during batting-practice sessions. His throwing motion is longer in the outfield, but Profar said he hasn't changed his arm angle in the outfield.
"I worked a lot out there, so I'm confident," Profar said.
Profar dealt with the sun in eyes with the 6:15 p.m. CT first pitch at Rangers Ballpark in Arlington. Washington said Profar and Pettis worked on shielding the sun with his glove the last few days.
"This kid is a quick learner," Washington said. "That's not to say a ball won't get in the sun and he won't lose it, but if anybody can shield that sun and make a play, it'd be him."
Washington originally wanted to test Profar in the outfield during a blowout situation. He planned to put Profar in Friday with a large lead, but the Astros trimmed the deficit in the middle innings.
"I wasn't moving my best defense to experiment," Washington said. "I'll give him a full game and go from there."
Master Tesfatsion is an associate reporter for MLB.com. This story was not subject to the approval of Major League Baseball or its clubs.