All-Star Harper helps lift Nationals past Padres
All-Star Harper helps lift Nationals past Padres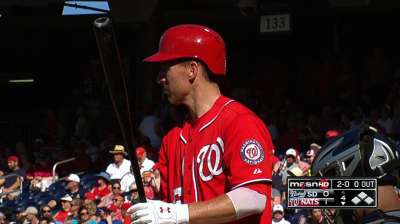 WASHINGTON -- Minutes after he was named to his second straight All-Star Game, Nationals outfielder Bryce Harper stepped into the batter's box on a scorching evening at Nationals Park.
Manager Davey Johnson had considered giving Harper the day off. The 20-year-old looked like he was "grinding too hard," as Johnson said, fighting himself in every at-bat. Since coming off the disabled list on Monday, he was 2-for-21 at the plate.
Harper convinced Johnson to keep him in the lineup Saturday against the Padres. Then, with two on, one out and his team trailing by one run in the seventh inning, Harper showed him why.
The reigning National League Rookie of the Year tied the game with a sacrifice fly, setting the stage for Ryan Zimmerman to bring home the winning run with a broken-bat single one batter later. The Nationals beat the Padres, 5-4, and moved to three games above the .500 mark for the first time since May 18.
"We're starting to play better baseball," Zimmerman said. "We're coming together, we're getting a little lucky every now and then. Just got to keep going."
Harper, who is the first National to start in an All-Star Game since Alfonso Soriano in 2006, finished 1-for-2 with three RBIs. He scored one run with a walk and another with a single up the middle, in addition to his sacrifice fly. He also made a pair of nice plays in the outfield, including a diving catch in the sixth inning to rob Will Venable of a hit.
"If I'm making a diving play in the outfield, or if I'm throwing a guy out or doing something -- walking, scoring a run," Harper said. "We're winning ballgames right now, and we're inching our way to first place. That's what it's all about."
The Nationals' other All-Star, right-hander Jordan Zimmermann, pitched well and had a good chance of picking up his career-high 13th win. But when Jesus Guzman's three-run homer soared over the left-field fence off of reliever Ross Ohlendorf, Zimmermann's win went with it.
Zimmermann pitched 5 1/3 innings, giving up three runs on five hits with one walk and four strikeouts. He gave up three doubles in the first three innings. His neck stiffened in the 90-degree heat. He was not his usually efficient self and threw 101 pitches.
"I was just deep into counts all game and they were battling and made me work out there," Zimmermann said. "It was probably one of the hotter games I've ever pitched in, so that definitely doesn't help."
The Nationals only managed one hit in the first two frames against former National Jason Marquis before grabbing a lead in the third. Anthony Rendon got it started with a single to left field and catcher Kurt Suzuki, who played in his first game since Wilson Ramos returned to the team, followed with a double. Denard Span walked to load the bases with one out.
Ian Desmond, a Final Vote candidate, hit a slow chopper to first baseman Guzman, who threw home for the force out to keep the Nationals off the board. Rendon slid into catcher Yasmani Grandal's right ankle, bending the catcher's knee sideways. Rendon was called out, and Grandal left the game with a right knee injury. Harper walked in the next at-bat to give Washington a 1-0 lead.
"Guys in the middle of our lineup, we work pitchers and we're not easy outs," Zimmerman said. "If you don't throw strikes, we'll take our walks. It's not a fun lineup for a pitcher to face."
Adam LaRoche led off the fourth inning, prompting the Padres to shift three of their four infielders toward the right side. LaRoche hit a 2-0 slider over the shift, crushing his 13th home run of the year into the Nationals' bullpen.
Washington added another run in the fifth when Span, Desmond and Harper hit consecutive singles. Marquis, who allowed three runs and eight hits in his return trip to Washington, exited the game after the following inning.
"Jason, he pitched his butt off, gave us six good innings, held them down," Padres manager Bud Black said. "He did his part. There's no doubt about it."
Zimmermann allowed two runners to reach base in the sixth inning before making way for Ohlendorf, who threw two fastballs before Guzman homered on the third. The Nationals trailed 4-3 after six innings.
But after the seventh-inning stretch, the top of Washington's order answered. Span and Desmond singled. Each advanced one base on a wild pitch by Luke Gregerson. The All-Star Harper took it from there.
"That was a wild game," Johnson said. "We had chances to put Marquis out of his misery early, but we couldn't do it. Kept battling. A lot of good at-bats, good defensive plays. Harp had a big day."
And yet, that big day was almost wasted in the ninth. Reliable closer Rafael Soriano, who entered the game tied for second in the National League with 23 saves, labored to convert No. 24.
With runners on second and third and two outs, Everth Cabrera hit a sharp grounder toward the first-base line. LaRoche dove, stabbed at the ball and threw it to Soriano for the out. The closer smacked his mitt and untucked his shirt with just a little more emphasis than usual.
"We've had some bumps on the road with injuries and stuff, but the character and makeup of this club is great," Johnson said. "Even through the rough times, I haven't seen anybody getting overly concerned. Everybody's starting to swing the bats and that's been a big concern, the bullpen's straightened out. "We're in a good position."
Tom Schad is an associate reporter for MLB.com. Follow him on Twitter @Tom_Schad. This story was not subject to the approval of Major League Baseball or its clubs.