Moore picks up 12th win as Rays down White Sox
Moore picks up 12th win as Rays down White Sox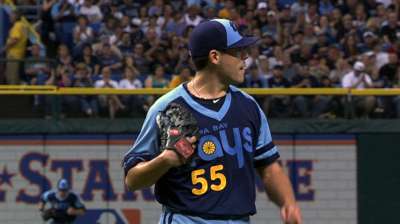 ST. PETERSBURG -- On a night the Rays turned back the clock by wearing 1970s-era uniforms, starting pitcher Matt Moore went back in time as well.
Not as far as the Rays' in-game entertainment staff did when they trotted out a parody of "The Gong Show." Moore only had to go back to mid-May.
Moore returned to early-season form Saturday, scattering five hits over 6 1/3 innings to help the Rays shut out the White Sox, 3-0. The Rays have now won seven of their last eight games and 10 of their last 13.
Moore's 12 wins give him the second most in the American League, but he didn't hear his name called when All-Star rosters were announced shortly before first pitch.
Had Moore not lost three straight starts at the beginning of June, things might be different.
"We're all subject to peoples' opinions and by no means do I feel right taking away from anyone who did make the team," Moore said. "I didn't have a goal to make the All-Star team at the beginning of the season. If I hadn't had that rough streak, I'm sure I could have had a chance."
While Moore would not make his own case for having an All-Star-worthy first half, others in the clubhouse took the baton.
Moore could make his way to the roster if the Midsummer Classic interferes with selected starting pitchers' schedules.
"To me, he's an All-Star-caliber pitcher, and we wouldn't be eight games above .500 without him, that's for sure," outfielder Sam Fuld said.
Opposite Moore on Saturday was Chicago's Chris Sale, who was named to the American League All-Star roster. Sale allowed just two earned runs (three total) over seven innings, but he still recorded his sixth straight loss.
"You can't expect him to blank everybody," White Sox manager Robin Ventura said.
The Rays nicked Sale in the bottom of the second inning when Yunel Escobar led off with a single. An error by White Sox third baseman Conor Gillaspie brought up designated hitter Luke Scott, who laced an RBI double to right field.
Left-handed hitters were hitting just .107 off Sale entering Saturday, and Scott's double was the first extra-base hit Sale surrendered to a lefty this season.
"You want to make sure you take advantage of every situation where you can drive in a run because it's going to be slim pickings for the night, and it was," Scott said.
The White Sox looked prepared to counter in the top of the third when Moore threw eight straight balls, hitting Alejandro De Aza and walking Alexei Ramirez in the process.
A wild pitch put both runners in scoring position, but Moore was bailed out by his two-time Gold Glove third baseman Evan Longoria when he snared Alex Rios' line drive and dove to third base to double off De Aza
"How strange is this game?" Rays manager Joe Maddon wondered. "You can make the argument that had we not thrown the wild pitch, there would not have been a double play had the same ball been hit. It's just awkward how this thing works out. I don't know. The world changed the moment the wild pitch was thrown. That's probably a good sign from somewhere."
The Rays posted another run in the sixth inning when Wil Myers led off the inning with a single, Scott was hit by a pitch and Fuld lined a single up the middle to score Myers.
Ironically, Scott and Fuld, the only left-handed bats in the lineup, had two of the three RBIs against Sale.
"If you look at his numbers, it doesn't inspire confidence," Fuld said. "Unfortunately, I did look at those numbers before the game. I've faced him before. In some ways, you just simplify your approach and shorten up with a guy who has outstanding stuff like that.
With the win, the Rays guaranteed their fourth straight series win, helped in large part by their starting pitchers falling into a rhythm.
"We're going to need that from them," Fuld said. "It seems to be coming together and it's fun to watch."
Moore is just one component, although a vital one, in a starting rotation that recently received a boost with the return of David Price. Jeremy Hellickson has also settled down and has won his last four starts.
Sam Strong is an associate reporter for MLB.com. This story was not subject to the approval of Major League Baseball or its clubs.