A's edged late as mistakes prove costly vs. Royals
A's edged late as mistakes prove costly vs. Royals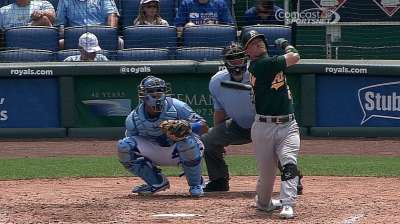 KANSAS CITY -- A trio of A's errors and one too many walks issued by the team's pitching staff resulted in a 4-3 loss to the Royals on Saturday afternoon, evening the series at Kauffman Stadium in advance of Sunday's rubber match.
It was an all-around disappointing day for the A's, who learned after the game that just one of their players, Bartolo Colon, is going to the All-Star Game. Deserving candidates Grant Balfour and Josh Donaldson were not invited.
"That was a very poor game for us, the way we started it, the way it ended and really everything in between," manager Bob Melvin said. "That was just a very bad game for us. Gotta put it away."
It was a two-out fielding error by shortstop Adam Rosales in the eighth inning of a tied game that really hurt the A's, who watched reliever Ryan Cook walk his next two batters before offering up a go-ahead infield single to Jarrod Dyson.
"I should've made the play," said Rosales. "That's going to stick with me for a while, but the sooner I can forget about it, the better. We played good baseball, just gotta finish the play."
But Rosales wasn't the only one guilty of a game-changing error.
Starter Jarrod Parker's first batter reached on his own fielding error, and he made another, having not committed a single miscue in each of his first 17 starts, in the third. That one cost him.
His throwing error on a pickoff attempt put runners on second and third with just one out, and Billy Butler's ensuing groundout plated a run, Kansas City's first of the day.
The Royals quickly added on in the fourth, thanks to Mike Moustakas' solo shot to right field, and again in the seventh, when Parker exited with one out after putting runners on first and second for lefty Jerry Blevins.
Blevins walked Alex Gordon on a four-pitch free pass to load the bases, one of six walks awarded to the Royals on Saturday, leading to a game-tying sacrifice fly from Eric Hosmer. Oakland's lefty has now walked each of his last three first batters faced.
"He's just hit a rough patch," Melvin said. "Usually he's very precise in where he's throwing the ball. He's having a difficult time throwing the ball where he wants to. It's not often that he's getting behind, walking guys, it's just a tough period he's going to have to work through because we need him. He's a big part of our bullpen."
"That's what it is," Blevins said. "A little subtle mechanical thing and I'm missing pitches that I don't normally miss. It's a minor fix, just something in my timing.
"As a team, we don't normally walk that many guys. We play good defense and had a couple of errors. It's not for lack of effort. It's lack of focus. Just a tough game overall. Not our best, should've won it."
By day's end, Donaldson's 15th homer of the season, a solo shot to left to lead off the sixth against Ervin Santana, was for naught. But in picking up two hits on the day, the other a third-inning RBI single, Donaldson became just the 14th player in Oakland history to tally 100 hits before the All-Star break.
Josh Reddick's second-inning RBI single accounted for the A's other run.
And though Parker wasn't satisfied with his 6 1/3-inning performance, giving up three runs (two earned) on five hits and three walks with four strikeouts in that time, he was encouraged with the way his body responded physically, having exited his last start a week ago with right hamstring tightness.
"To come out of it today and be able to do what I did, I'm semi-happy with the health stuff," Parker said. "It felt OK. I'd be lying if I told you it didn't affect my stuff though.
"Just a little flat. I wasn't really able to get on anything and follow through. It's something I think, tomorrow, if it feels equal to today, I'd be happy with it knowing I can keep moving forward."
Said Melvin: "He battled hard, in conditions out there that are pretty hot, so at the end of the day he does his job. We just couldn't finish it off. I mean, he comes out of the game with a lead."
But Blevins quickly fell behind from there, much like Parker had done for parts of the day.
"I put too many free passes on," Parker said. "We did as a staff. It's something that it's not us, it's not who we are as a team. Today was just one of those days."
Jane Lee is a reporter for MLB.com. Read her blog, Major Lee-ague, and follow her on Twitter @JaneMLB. This story was not subject to the approval of Major League Baseball or its clubs.