Dyson's go-ahead infield single keys KC comeback
Dyson's go-ahead infield single keys KC comeback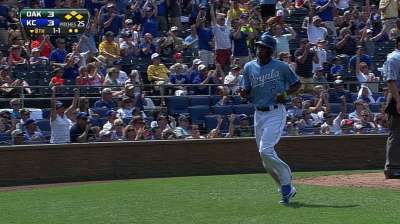 KANSAS CITY -- Two outs, nobody on, no problem. At least not for the Royals on Saturday afternoon.
The Royals loaded the bases on an error and two walks and scored the go-ahead run on Jarrod Dyson's infield single in the eighth inning as they defeated the Oakland A's, 4-3, and evened the series in front of 16,606 holiday weekend fans at Kauffman Stadium.
The score was tied at 3-3 in the bottom of the eighth when Miguel Tejada stepped up to the plate against his former team. He reached first on an error by shortstop Adam Rosales. Pinch-runner Alcides Escobar stole second base and advanced to third after Oakland reliever Ryan Cook walked Mike Moustakas and Elliot Johnson to load the bases. That's when the man of the day, Dyson, stepped up to the plate and knocked in the winning run with a single up the middle, fielded by Rosales, who had no shot at throwing out Dyson.
"We took advantage of a miscue at shortstop and that's the thing about our group of guys, they're a scrappy group and they don't quit," manager Ned Yost said. "Two down, they keep coming. Two outs in the inning and they end up scoring a big run right there. Taking some walks, having some patience and pushing a run across."
Entering the game, Dyson was on an 0-for-11 skid, but he finished the day a perfect 3-for-3 with a single, a double, a walk, two stolen bases and an RBI.
"I was just trying to find a hole, I wasn't trying to go deep," Dyson said. "Just get a good pitch to handle and find a hole. When I chopped it over the pitcher's head and I saw the shortstop had to go behind second base, I knew he didn't have a play at second so I had to hustle down the line."
The Royals and A's had met four times this season before Saturday's matchup and this was the only game the Royals managed to win. In the previous 14 games, the A's held them to three or fewer runs 12 times and won nine games.
Between three errors and six walks, the A's certainly made this one attainable.
"They did us a favor, I'll tell you that, man," Dyson said. "Any way we can get a win, we'll take it."
The three Oakland errors tied a season-high from April 26 against Baltimore.
"That was a very poor game for us, the way we started it, the way it ended and really everything in between," Oakland manager Bob Melvin said. "That was just a very bad game for us. Gotta put it away."
Dyson also had the defensive play of the day when he started a double play in the seventh inning where he caught Coco Crisp's fly ball in center field and threw a rocket to Moustakas at third base, where he tagged out Eric Sogard.
"The ball kind of sliced over on the left side so it was a good throw to go to third with," Dyson said. "I came up with a bullet and a perfect hop right to Moose and he was able to lay a good tag on him."
It was Dyson's third outfield assist of the year and first since May 12 against the Yankees.
"I don't think people understand how good of an arm Dyson has, but he's got a pretty good arm and he showed it right there," left fielder Alex Gordon said. "He got behind the ball pretty well and I didn't think he was going to tag, but when he did I knew he was going to throw him out."
Preventing the run in the top of the seventh allowed the Royals to tie the score at 3-3 when Johnson scored from third on Eric Hosmer's sacrifice fly to center field in the bottom half of the inning.
Aaron Crow struck out two batters in the top of the eighth and handed the reins to Kansas City closer Greg Holland who struck out the side in the top of the ninth to seal his 20th save of the season. He is just the 11th pitcher in franchise history to notch 20 saves in a season.
"We needed that win, it's another tough win and I feel like we're starting to learn how to win those games you've got to grind out against a good starting pitcher but we had a good one too," Holland said.
The A's took an early 2-0 lead scoring solo runs in the second and third innings against Ervin Santana.
Dyson led off the third inning with a single to right field and stole second with Gordon batting. Gordon walked and both advanced on a failed pickoff attempt at second base by Oakland righty Jarrod Parker and Dyson scored on Billy Butler's groundout to third base.
Moustakas followed with a home run to right field in the fourth inning to tie the game at 2-2. It was his sixth homer of the year and first at home since May 10 against the Yankees.
"Anything I can do to help always feels good," Moustakas said. "I got a good piece of a good pitch and it ended up going out of the yard."
Parker limited the Royals to five hits and three runs, two earned, in 6 1/3 innings to extend his streak of eight straight starts allowing five or fewer hits.
Santana nearly matched him with seven hits and three runs, including a homer to Josh Donaldson in the sixth, in seven innings before the bullpen took over.
"Ervin was great, really threw the ball well," Yost said. "Gave up the home run to Donaldson, but besides that I thought he threw great. Aaron Crow was really, really good and Holly was his normal self."
Kathleen Gier is an associate reporter for MLB.com. This story was not subject to the approval of Major League Baseball or its clubs.