Paul out of lineup following wall collision
Paul out of lineup following wall collision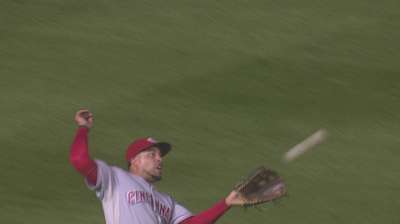 CINCINNATI -- Left fielder Xavier Paul wasn't in the main area of the Reds clubhouse before Saturday's Interleague game against Seattle.
He was in the trainer's room getting treatment for the injuries he suffered in the ninth inning of Friday's 4-2 loss. Paul crashed into the cement part of the wall in foul territory down the left-field line while trying to catch Kyle Seager's foul ball on the ninth pitch of what would become a 12-pitch at-bat that ended with him flying out to center fielder Shin-Soo Choo. Paul appeared to injure his right elbow, but manager Dusty Baker said the injury was to Paul's shoulder. Paul finished Friday's game, but he did not start Saturday.
"Walls are pretty forgiving," said Baker, an outfielder during his playing days. "They're real forgiving, more than they used to be."
Somebody pointed out that walls still have a winning record against players.
"The walls beat me," Baker said. "I'm on the wall's list. You're going to be on the wall's list, unless you're scared, and if you're scared, then you're not going to be playing too long, unless you learn how to play. Paul Blair taught me."
Blair won eight Gold Glove Awards during a 17-year career as an outfielder, most of them with Baltimore. Baker and Blair were never teammates, but the Reds skipper considers Blair to be among the most underrated outfielders of the era.
"He doesn't get the recognition of a Willie Mays or Curt Flood, but he was one of the best," Baker said.
Mark Schmetzer is a contributor to MLB.com. Mark Sheldon is a reporter for MLB.com. Read his blog, Mark My Word, and follow him on Twitter @m_sheldon. This story was not subject to the approval of Major League Baseball or its clubs.