Latos fans 11, aids own cause with two RBIs in win
Latos fans 11, aids own cause with two RBIs in win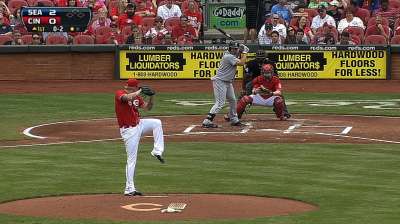 CINCINNATI -- Reds manager Dusty Baker asked on Friday night for two-out hits. His team delivered on Saturday.
The Reds scored nine of their 13 runs with two outs and Cesar Izturis doubled his RBI total for the season by driving in three as the Reds bounced back from another first-inning deficit for a 13-4 win over the Mariners at Great American Ball Park.
Jack Hannahan, making just his 14th start of the season, added three hits and two RBIs while scoring two runs.
"When we send them up there, we expect them to do well," Baker said. "We try to space them out as best we can. They both had big days. They came through in the clutch with big hits.
"Those big two-out hits were the key."
Right-hander Mat Latos used 11 strikeouts, reaching double figures for the eighth time in his career to overcome four walks, and the Reds helped out by going 8-for-17 with runners in scoring position after going 6-for-34 in the first four games of the homestand. Latos became the first Reds pitcher to reach 11 strikeouts this year, which means free pizza for ticket-holders. Saturday's game was the 14th in which fans received free pizza, further delighting the crowd of 34,965.
The Reds were 6-for-9 with runners in scoring position with two outs after going into the game last in Major League Baseball in hitting in that situation with a .179 average. They equaled their most runs in a game since beating Washington, 15-0, on April 5. They also scored 13 in a 13-7 win over Milwaukee on May 11.
It took a little longer than Friday night, but the Mariners still wasted little time taking a quick 2-0 lead in the first. On Friday, they needed only four Mike Leake pitches. Less than 24 hours later, it took them 10 Latos offerings, including Endy Chavez's one-out single and Kyle Seager's two-run homer to right on a 3-1 pitch. The 334-foot shot bounced off the roof covering the bench of the visitors' bullpen down the right-field line.
Latos vented his frustration by flinging his glove underhanded up the tunnel leading from the dugout to the clubhouse after the inning.
"We made Latos work," Mariners manager Eric Wedge said. "I mean, 110 pitches in six innings or whatever it was. A lot of strikeouts, of course, but long [at-bats] -- made him work. We had some opportunities that we didn't take advantage of. He's a good pitcher. He made some good pitches today at the right times."
Izturis wasted no time making the most of his 16th start of the season, driving in Jay Bruce from third base with a one-out bloop single to short right field in the second. Bruce drew a leadoff walk, went to second on a wild pitch to Hannahan and to third on Hannahan's groundout to second base.
Seattle regained a two-run lead in the third, which started with Latos' sixth straight strikeout. He followed by walking leadoff hitter Brad Miller, who went to third on Chavez's single to center and scored on Seager's sacrifice fly.
The Reds took a 4-3 lead with a two-out rally in the fourth. Hannahan's fly ball one-hopped the left-center-field wall with one out in the fourth. Ryan Hanigan was walked intentionally with two outs, and Latos cashed in with a ringing double to the right-center-field gap to tie the score.
"That was a good time to get a hit," Latos said. "The offense picked me up. Thirteen runs is always good, especially when I put us in 2-0 hole."
Shin-Soo Choo drove in Latos from second with a single to center.
"He threw a lot of pitches, and he ran the bases," Baker said about Latos. "He got the big hit. You love to see pitchers get big hits, but you hate to see them run the bases. It takes a lot of energy out of them."
Cincinnati added two more two-out runs in the fifth, on Bruce's single, Hannahan's walk and Izturis's two-run double.
"It was one of those days," Izturis said. "We were aggressive in the strike zone. That gives us a lot of confidence, especially after losing [Friday]."
The Reds poured on four more runs in the eighth, including an RBI single from Hannahan and run-scoring double by Hannahan.
Mark Schmetzer is a contributor to MLB.com. This story was not subject to the approval of Major League Baseball or its clubs.