Error or not, Cards happy for first walk-off win
Error or not, Cards happy for first walk-off win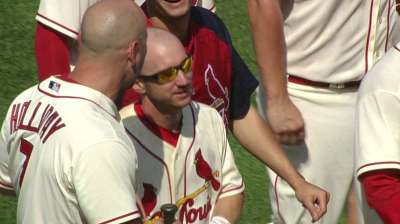 ST. LOUIS -- Better late than never. The Cardinals became the last team to record a walk-off this season, finally reaching the mark Saturday with a 5-4 victory over the Marlins.
This time, it wasn't the Cardinals stars who came through in the clutch, it was the bench that picked up the slack. Matt Adams set the stage with a game-tying two-run blast in the seventh, and Jon Jay capped the comeback by scoring the go-ahead run on a throwing error from Marlins right fielder Giancarlo Stanton on Shane Robinson's single in the ninth.
With the game tied at 4, Marlins reliever A.J. Ramos walked Jay and gave up a two-out single to pinch-hitter Robinson. Stanton, on what should have been a routine play, overthrew first baseman Logan Morrison, allowing Jay to turn the corner for the go-ahead run in front of 45,475 fans at Busch Stadium.
After the game, manager Mike Matheny said his team was "very aware" that the Cardinals were the only Major League team yet to win in walk-off fashion.
"That's why, whether it's strange or not, we'll take it. Gladly," Matheny said. "We've had a lot of close games like this that we couldn't quite pull it off at the end, so it doesn't matter to me how, just that we did."
Adams, pinch-hitting for pitcher Seth Maness, knocked a 1-2 pitch into the St. Louis bullpen in the seventh to force a 4-4 tie. It was just the fourth time in the past 15 games that the Cardinals scored after the sixth inning. Adams' long ball against left-handed reliever Mike Dunn was Adams' second career home run against a southpaw, with his first coming last Saturday in Oakland.
"It feels good. A homer is a homer, but today was a big one," Adams said. "That was just what we needed in that spot. We were down two, and it would have been the top of the order coming through. He left a pitch up, and I got the barrel on it."
While neither Adams nor Robinson have consistently been in the lineup this season, both stepped into big pinch-hitting situations Saturday and delivered.
"It's obviously not the easiest thing to do, but that's my job basically," Robinson said. "That's what they expect of me -- to come off the bench and get things going. And I just work hard and try to do that when called upon."
In his second start of the season, Cardinals right-hander Joe Kelly surrendered four runs on five hits -- including a pair of home runs -- and two walks, while striking out four through six innings.
Morrison hit a 2-2 curveball over the fence against Kelly in the third, his second in as many games after taking Jake Westbrook deep for the Marlins' lone run on Friday.
The Cardinals kept the game within reach with a two-run third inning before Kelly served up his second homer, this time to Derek Dietrich on the first pitch of the fourth. Adeiny Hechavarria nearly pushed the Marlins' lead to 5-2, but he was called out at the plate by home-plate umpire Bill Welke. As Hechavarria slid toward home, his lead foot caught the foot of catcher Tony Cruz, who applied the tag on a bang-bang play.
Marlins manager Mike Redmond was ejected by Welke while arguing the call.
"We should have won that game, there is no doubt about it," Morrison said. "We didn't. It's over. That's why we play every day. That's why we're going to have a game at 1 o'clock, and go out and give it the college try."
While the Cardinals haven't committed to a fifth starter in the long term, Matheny said the plan is still to have Kelly start next week in Chicago against the Cubs.
"I felt good. Made a couple bad pitches, especially the homers," Kelly said. "Those pitches, I make those down and they're going to be outs. … I'm not terribly disappointed, but I'm not too happy. I mean, we won. The walk-off was awesome, but I'd like to be a little better next time."
Maness, Trevor Rosenthal and closer Edward Mujica pitched three scoreless innings of relief, and Mujica picked up his first win as a member of the Cardinals with a perfect ninth inning.
Through six innings, Marlins starter Nathan Eovaldi had effectively limited the Cardinals to just two runs and four hits, but he gave up a one-out single to Cruz, who later scored on Adams' homer. Eovaldi exited after 6 2/3 innings with five hits, three earned runs, three walks and three strikeouts.
In his third start in place of Pete Kozma, who was given time off to find his swing and confidence at the plate, Daniel Descalso committed two errors at shortstop. It was the seventh time this season and the second straight day that the Cardinals committed two errors in a game. Descalso's errors could mean a return to the lineup for Kozma in Sunday's finale.
The win guarantees a series victory over the Marlins for a St. Louis club that had lost eight of its past 11 games entering Friday's opener. The Cardinals are in the midst of a nine-game stretch against teams with sub-.500 records, and they look to build momentum heading into the All-Star break.
Chad Thornburg is an associate reporter for MLB.com. This story was not subject to the approval of Major League Baseball or its clubs.