Dickey, bats struggle in shutout loss to Twins
Dickey, bats struggle in shutout loss to Twins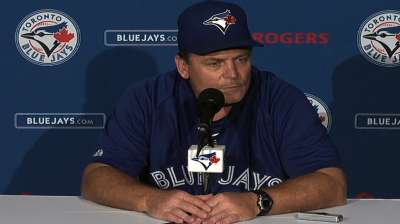 TORONTO -- Baseball is a funny game. One pitch, one location, one play, can change everything. In a sport that sees hundreds of pitches, and more than 50 outs, just one thing can change the entire complexion of a game.
On Saturday afternoon, those defining pitches made a big difference in what ended up being a 6-0 loss for the Blue Jays at the hands of the reeling Twins in front of 37,004 fans at Rogers Centre.
"That's the beauty of baseball," Toronto starter R.A. Dickey said. "You're always one good pitch away from getting out of an inning."
For Dickey, that one pitch that changed everything won't be reflected in what turned out to be an ugly linescore.
Dickey was cruising heading into the third frame, facing the minimum through two. However, back-to-back hits to start off that frame put runners at the corners for the Twins. Then Dickey caught a break, nabbing Chris Parmelee trying to score from third on a slow comebacker to the mound, putting runners on first and second.
That next pitch by the 38-year-old, however, changed everything. Dickey threw a knuckler that catcher Josh Thole couldn't handle, advancing the runners into scoring position. Two pitches later, Brian Dozier hit what would have been a double-play ground ball to second baseman Munenori Kawasaki, scoring the eventual winning run.
Minnesota added more runs before the inning concluded, giving the visitors a cozy three-run cushion.
"That's [what's] tough about the knuckleball," Dickey said. "You get a wild pitch or a passed ball, and then the next pitch is a ground ball and you could've been out of the inning. I mean, you have all kinds of scenarios [like that] that you have to kind of navigate."
For Twins starter Mike Pelfrey, his defining pitch came when he was facing his sixth batter of the game.
In the first, Pelfrey had all sorts of trouble finding the strike zone. The right-hander walked three consecutive batters to load the bases with two away, setting the stage for Rajai Davis, who stepped to the plate looking to break an 0-for-16 skid.
Davis, however, hit a 2-2 sinker into the ground and was unable to beat out the throw from Dozier at second, ending the club's only offensive threat.
"You always want to capitalize when the other pitcher is struggling," Dickey said.
"That was our one shot," Toronto manager John Gibbons added. "We had that opportunity, it was really our only opportunity in the first, and [we] came up empty."
Oddly enough, it was two simple pitches that completely changed the outcome of the game.
It was a disappointing result for the Blue Jays in the first, who didn't generate anything offensively the rest of the way. The club managed only four hits, three of them singles by Maicer Izturis, and never got a runner past first outside that opening frame.
Making things even more frustrating for the club was that Pelfrey was making his first start in two weeks, and came in with a 6.11 ERA and 1.63 WHIP over 14 starts this season.
"I think not being out there for two weeks in a big league game my adrenaline was flowing and I was excited, so I was overthrowing," said Pelfrey, who pitched six scoreless innings. "Andy [pitching coach Rick Anderson] came out and said, 'Hey, let's get back.' [After that] I was able to make some better pitches than I did before."
For Dickey, it marked the seventh time this season that the 2012 National League Cy Young winner gave up six or more runs.
"I gave up another three-run home run, which has kind of been my bane this year, is the home run ball," Dickey said, who allowed a three-run shot to Dozier in the seventh. "That's not ordinary for me. If that slows down, I anticipate it being a lot better. But a three-run home run is tough to overcome when you've already given up three [runs]."
The knuckleballer ended up allowing six earned runs on seven hits and two walks with three strikeouts.
"I felt great. My velocities were there," said Dickey, who's 8-9 on the season. "But I've got to do a better job of making good pitches with runners in scoring position, in particular."
For the Blue Jays, Dickey's performance has highlighted a problem that it's had all year, poor starting pitching. Toronto came into the game with the Majors' third-highest ERA at 5.02.
However, it's not something that concerns Gibbons.
"This is our rotation; we like it," Gibbons said. "You ride it out. We think they're going to pitch good the rest of the way out, we really do."
Evan Peaslee is an associate reporter for MLB.com. Follow him on Twitter at @EvanPeaslee. This story was not subject to the approval of Major League Baseball or its clubs.