Forearm strain lands Phelps on disabled list
Forearm strain lands Phelps on disabled list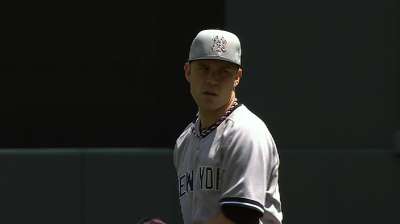 NEW YORK -- On Thursday, right-hander David Phelps pitched 6 1/3 innings and gave up four runs in a win over the Twins. On Saturday, the Yankees placed him on the 15-day disabled list with a strained right forearm.
"He actually threw the ball really well," manager Joe Girardi said, "but ... he actually said he was a little sore, but higher [in his arm]. It's kind of strange."
After undergoing an MRI on Friday, Phelps was diagnosed with the strain. The MRI did not reveal any ligament damage.
Phelps will be shut down for 10 days before he can begin throwing again. The team discussed having him skip one start, but with the All-Star break approaching, it was decided it was best to put him on the DL to make sure he is completely healthy.
Phelps is 6-5 with a 5.01 ERA over 12 starts.
Hiroki Kiroda will now start Sunday's game against the Orioles. Phil Hughes will be pushed back to Monday, against the Royals, and CC Sabathia and Ivan Nova will pitch on Tuesday and Wednesday, respectively.
In corresponding moves, shortstop Eduardo Nunez was activated from the 60-day DL to take Phelps' place on the roster, and first baseman Mark Teixeira was transferred to the 60-day DL.
Josh Vitale is an associate reporter for MLB.com. This story was not subject to the approval of Major League Baseball or its clubs.