Uribe racks up seven RBIs to lead Dodgers
Uribe racks up seven RBIs to lead Dodgers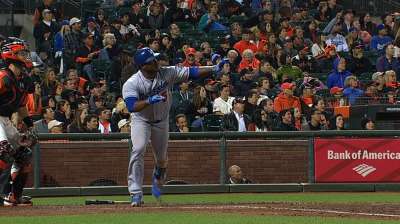 SAN FRANCISCO -- Having four healthy outfielders was fun for the Dodgers while it lasted, but it lasted only one inning.
Matt Kemp gave himself and the team a scare when he left with pain in his surgically repaired left shoulder after a second-inning swing Friday night.
But at least third baseman Juan Uribe is still healthy. That's right, the former Giants World Series star and forgotten man in Los Angeles homered, tripled, doubled and drove in seven runs as the Dodgers clobbered San Francisco and Matt Cain on Friday night, 10-2.
The Dodgers, winners of 11 of their last 13, pulled back into a tie for second place with Colorado. The last-place Giants, coming off a 1-8 trip, have lost 10 of 11.
Uribe, writing another page in his comeback story from last year's irrelevance, doubled in two runs in the second inning, chased Cain with a bases-loaded triple in a six-run third inning and slugged a two-run homer in the seventh off Mike Kickham. The seven RBIs tied a career high for Uribe.
"I know I had a good game," said Uribe, who remembered his other seven-RBI game with the White Sox in 2004. "I'm happy, but I'm happy because we won the game."
Uribe missed by a single of having the second Dodgers cycle since 1970 (Wes Parker, then Orlando Hudson in 2009). He popped out to first base in the fifth inning and, needing a single leading off the ninth, struck out.
His seven RBIs were one more than he had over the final three months of last season when he lost his starting third-base job to Luis Cruz.
Dodgers starter Hyun-Jin Ryu (7-3) snapped a winless streak of five starts with the windfall of support, throwing a four-hitter over 6 2/3 innings for his eighth consecutive quality start. Cain (5-5) was charged with eight runs and four walks in 2 1/3 innings.
Ryu was charged with two runs, one scoring on a groundout, the other coming home on a hit allowed by rookie reliever Jose Dominguez. Ryu downplayed a slight mechanical adjustment in his delivery and played up the 8-1 lead he had after three innings.
"My part wasn't much different," he said. "The offense got hits early in the game and that gave me a different type of confidence."
Uribe, batting eighth, wasn't the only producer at the bottom of the Dodgers' batting order. Seventh hitter A.J. Ellis had two hits, two runs and an RBI, while Ryu also had an RBI single. Andre Ethier continued his solid contributions with a pair of hits, while cleanup hitter Hanley Ramirez had two hits to extend his hitting streak to 16 games, matching his career high.
"They're taking advantage of when they get guys in scoring position," Cain said of the Dodgers. "When things are going good, that's what happens."
Before the game, the Dodgers activated Carl Crawford from the 15-day disabled list, making this the first game of the year when Crawford, Kemp, Ethier and Yasiel Puig were active for the same game. Crawford didn't start, but he played seven innings after taking over for Kemp.
Ryu got himself into a bases-loaded situation with one out in the first inning with his second walk, to Buster Posey on a 3-2 pitch, with Ryu acting like he thought it was a strike. He then got a bouncer to shortstop from Hunter Pence, but the Dodgers couldn't complete the double play and Andres Torres scored. Opponents are 0-for-10 with the bases loaded against Ryu.
Ramirez led off the second with a walk and was doubled to third by Ethier, who came into the game batting .444 against Cain. Then on a 1-1 pitch, Kemp swung and missed, dropped his bat and with his right hand grabbed his left shoulder.
Athletic trainer Sue Falsone and manager Don Mattingly came to his side, then Kemp took a practice swing and continued the at-bat, taking three more balls for a walk to load the bases. After a foulout by Ellis, Uribe doubled home Ramirez and Ethier.
Puig led off the third with a double, Adrian Gonzalez worked a 3-2 walk and Ramirez singled up the middle to score Puig and extend his hitting streak. With one out, Crawford batted for the injured Kemp and walked to load the bases.
Ellis came up again and this time singled to score Gonzalez. Uribe then cleared the bases with a triple past left fielder Cole Gillespie's diving attempt to chase Cain. Ryu greeted reliever George Kontos with an RBI single.
"It's a lot better than it could have been," Mattingly said of the early diagnosis and prognosis on Kemp: irritation of the acromioclavicular joint, a cortisone injection and day to day.
Kemp said he's never felt anything like the pain he experienced on the swing. Mattingly said Kemp has dealt with minor AC discomfort this year that has responded to conservative treatment.
Ken Gurnick is a reporter for MLB.com. This story was not subject to the approval of Major League Baseball or its clubs.