Giants bring up outfielder Gillespie from Triple-A
Giants bring up outfielder Gillespie from Triple-A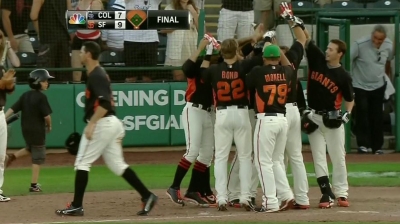 SAN FRANCISCO -- The newest addition to the San Francisco roster, Cole Gillespie, admits he did not see a callup in his near future.
The outfielder said he was called into the manager's office after Thursday night's game at Triple-A Fresno where skipper Bob Mariano told him the Giants wanted him in the Majors.
"I actually tried to get [some information] out of them, but they didn't have many answers for me," said Gillespie on his role with the Giants. "He didn't know exactly what the move was or what it was for. At that point, I only knew I was going back up to the big leagues."
In order to make room for Gillespie on the active roster, San Francisco optioned outfielder Juan Perez to Fresno. As Gillespie was previously not on the 40-man roster, the Giants transferred injured outfielder Angel Pagan from the 15-day to the 60-day disabled list.
While it's Gillespie's first stint with the Giants, he does have previous experience at the Major League level. He spent parts of the 2010 and 2011 seasons with the D-backs, but missed all of last year with a hip injury.
"You can't take it for granted because you don't know when you're going to get that shot," Gillespie said. "There were two outfielders [Perez and Francisco Peguero] called up before me and obviously I still had to take care of my own business and not really dwell on that. So when I heard the news I was pretty ecstatic."
With left-hander Hyun-Jin Ryu on the mound for the Dodgers on Friday, manager Bruce Bochy put the right-handed Gillespie in the starting lineup at left field.
"I think [previous National League West experience] can help, being that I've played here before," Gillespie said. "Anytime you go into a new yard it takes a little adjustment time and I know in San Fran going out and playing in that right field the first time, it gave me a little bit of a headache with the wall and the wind. Hopefully in left field it's a little more comfortable for me."
Perez, who turned many heads in early June with dazzling plays in the outfield after earning a callup, simply wasn't producing at the plate in recent weeks and heads back to Fresno with a .238 average.
"I was wondering [if I would be demoted] yesterday because Gillespie got called up," Perez said. "I need to get better every single day. I've got to go down there and get at-bats every day and get back up here and help the team win again."
Andrew Owens is an associate reporter for MLB.com. Follow him on Twitter @OwensAndrew. This story was not subject to the approval of Major League Baseball or its clubs.