Rare runs in first spark three-homer outburst in Texas
Rare runs in first spark three-homer outburst in Texas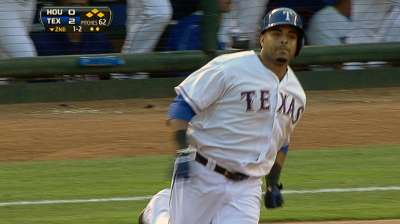 ARLINGTON -- The first frame hasn't been kind to the Rangers this season, but it paved the way to a 10-5 win against the Astros on Friday at Rangers Ballpark in Arlington.
The Rangers posted two runs in the first on David Murphy's line shot into the home bullpen in right field. Ian Kinsler drew the first of his three walks to lead off the game, setting up Murphy's 10th home run this season. Murphy hit second for the second straight game.
"I actually thought it was a double," Murphy said. "That's the part of the ballpark that's a good place to hit. When it's that low, you bust out of the box and hope it goes out."
The Rangers have scored one run in the first inning the past 25 games and have been outscored, 40-19, in the first inning this season. It was just their fourth multi-run first inning of the year.
Lucas Harrell didn't last past the fourth as the Rangers built on their first frame. Nelson Cruz hit his sixth career grand slam in the second to open the game up, 6-0. Cruz sent the pitch over the left-field seats with two out, taking advantage of a pair of Harrell walks that helped load the bases.
"I thought we handled Harrell well," Rangers manager Ron Washington said. "We made him throw some balls in the strike zone and didn't chase them. We got some hits when we needed them."
Harrell allowed his third home run in the fourth to Adrian Beltre, giving the Rangers a 9-0 lead. Brett Wallace dropped a Cruz popup with two out before Beltre blasted a ball off the foul pole in left field. He has hit three home runs in his past six at-bats.
"It was good to jump on them early and take the pressure off of [starter Nick] Tepesch a bit, and allow him to go out there and pound the strike zone," Murphy said. "It was great to see our offense explode like we're capable of."
Harrell dropped to 5-9, matching a career-high nine runs allowed (seven earned) in 3 2/3 innings. He's now 1-3 with a 6.10 ERA in four career starts against the Rangers.
"He just didn't have his fastball command today, and against a good-hitting ballclub like this, you fall behind in the count and get into some predictable fastball counts, they're going to put good swings on it," Astros manager Bo Porter said.
Tepesch improved to 4-6, but he struggled the third time through the order once again. He allowed three of his seven hits in the sixth, exiting with nobody out. Chris Carter's two-run double off Tepesch made it a 10-3 game. It marked the end of the outing for Tepesch, who saw his opponents' batting average increase to .459 (40-for-87) during his third time through the lineup. Carter scored on J.D. Martinez's single off reliever Ross Wolf, giving Tepesch four earned runs in five-plus innings.
"I just thought he ran out of gas because he quit getting extension," Washington said. "The balls he was driving through the strike zone all of sudden were hitting the dirt."
Tepesch still recorded a career-high nine strikeouts, punching out the side in the second. He forced Ronny Cedeno to hit into an inning-ending double play in the fifth with runners on the corners.
"I had good command, that was the biggest thing," Tepesch said of his first five innings. "I was locating all my pitches. I threw a few changeups and threw a few good ones. I felt like it was as good as it's been in a long time tonight."
The Rangers still managed to save their bullpen, as Wolf pitched three innings. The long reliever allowed only three hits and an unearned run in the eighth on a Mitch Moreland throwing error.
The Rangers scored 10 runs for the first time since May 19 against Detroit and are now 31-1 this season when they score five or more. They have won eight of their past nine games against the Astros at home, with the opener marking the pair's first meeting in Arlington as American League West foes.
"It's what we're supposed to be doing," Beltre said. "That's what our plan is to score runs for our pitching staff. Obviously it's not always going to be the same, but the last couple games have been good. Hopefully we keep it up."
Master Tesfatsion is an associate reporter for MLB.com. This story was not subject to the approval of Major League Baseball or its clubs.