Porcello, Tigers blank Indians in series opener
Porcello, Tigers blank Indians in series opener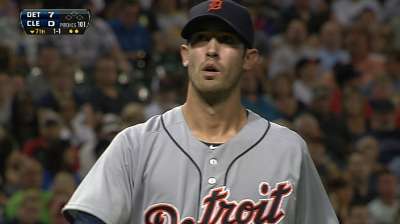 CLEVELAND -- The Tigers insisted on their way into town that it was too early for a big series. It wasn't too early for a big game.
It was important for Rick Porcello, who largely quieted Cleveland's left-handed hitters on his way to seven scoreless innings in a 7-0 Tigers win Friday night at Progressive Field.
"Personally, I thought his mound presence tonight, with a packed house, on the road, a team right there with you, I thought his presence was the best I've seen it," manager Jim Leyland said.
It was big for Jhonny Peralta, who was 1-for-17 off former Indians teammate Justin Masterson before delivering a two-out, two-run double in the fifth inning to knock Cleveland's ace out of the game.
"When the sinker is up, anybody can hit it," Masterson said. "It doesn't matter what the numbers are."
It was even big for Ramon Santiago, 1-for-14 off Masterson and 0-for-13 with runners in scoring position before his two-run single in the second inning.
"With [Masterson], you have to look for something up in the zone," Santiago said. "When that sinker's down, there's nothing you can do."
It was pretty good, too, for Victor Martinez, whose third three-hit game against his old club this year raised his batting average to .242, tying his high for the season.
"That looked like the Victor Martinez we know tonight -- patient and just hitting line drives all over the ballpark," Leyland said. "That's the Victor we know."
And with the resulting victory, their lead in the American League Central looks a little bigger, too, now back to 2 1/2 games. Detroit has gained three games on Cleveland in the standings in as many days while putting together a four-game winning streak, all on the road.
It's too early to watch the standings, several Tigers insisted. Their late-season comeback last year was an example why, Peralta pointed out after the Tigers beat Toronto on Thursday. They're not, however, diminishing the importance of wins.
It's the third time this year the Tigers have won four in a row away from Comerica Park. The last was a four-game sweep of the Astros in Houston two months ago. A win Saturday would tie their longest streak of the season, home or away.
"We're trying to win games," Leyland argued before the game. "It doesn't matter that we're playing Cleveland."
The crowd of 40,167, the first sellout at Progressive Field for a game other than Opening Day since the Yankees were in town on July 4 two years ago, might suggest a little more importance. A mix of reconnected Tribe faithful and traveling Tigers fans packed the place, but only the latter had much to cheer.
"That's the most I've ever seen here since I've been coming here to play," Don Kelly said. "That was fun."
Masterson (10-7) has pitched his way into consideration for a spot on Leyland's AL All-Star roster, but he has beaten the Tigers just twice in 13 career meetings. After he retired Detroit's first four batters in order, the two-out, two-run single from Santiago of all people started his fortunes down a similar path.
Miguel Cabrera, back in Detroit's lineup after missing Thursday's game with back soreness, singled in Andy Dirks in the third inning before three fifth-inning runs knocked Masterson out. All three scored with two outs on hits from former Clevelanders, Martinez's RBI single preceding Peralta's drive to the fence in right-center field.
Masterson gave up six runs on seven hits over 4 2/3 innings. For this night, at least, he was the second-best sinkerballer on the mound, throwing more pitches in less than five innings (108) than Porcello (101) threw in his seven.
But then, Porcello continues to make strides to become less reliant on his sinker.
Like his 13-0 teammate Max Scherzer, Porcello used a curveball to his advantage against left-handed batters. Against a Cleveland lineup with just two right-handed hitters, Porcello went to the curve for five outs over his first four innings.
"It was the game plan going in," Porcello said, "and the ability to execute it tonight was the difference. The curveball was there. … We went to it a lot."
When the Indians finally adjusted, Porcello (5-6) went back to his change of speeds to close out.
"He had a good four-seamer that he was getting to us at the end of counts," Michael Bourn said. "After he slowed us down, he was speeding us up pretty much. We never really got him in any real trouble."
Porcello said he and Scherzer have talked about their similar work with the curveball to better attack lefties, though they have different games around them. "I think Max uses his curveball a little differently than I do, because his fastball and changeup are real put-away pitches," Porcello said. "But for me, I'm trying to use it early and often, maybe not trying to strike guys out but get guys to roll over on it and set up my fastball more."
Porcello allowed five hits and two walks against six strikeouts. It marked his third outing of seven or more scoreless innings in his last eight starts. He has three other six-inning quality starts in that span, with two disastrous outings filling it out.
Nights like Friday are the ones when the 24-year-old's progress looks impressive. To do it in this game was big, at least for him.
"I know that we've had a tough time winning here the past couple years," Porcello said. "This is a tough place to win games. They play really well at home. Really, against this team, no lead is safe. Everybody did a great job. Hopefully we can get two more and get out of here."
Jason Beck is a reporter for MLB.com. Read Beck's Blog and follow him on Twitter @beckjason. This story was not subject to the approval of Major League Baseball or its clubs.