Bats back solid Harang at longtime home
Bats back solid Harang at longtime home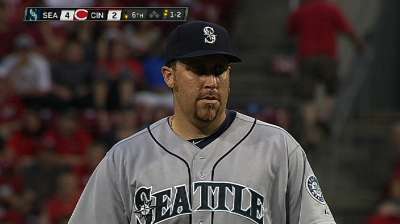 CINCINNATI -- Before pitching in Cincinnati on Friday night, Seattle starter Aaron Harang had not won a road game in five tries this season, going 0-4 with a 6.75 ERA. But in a park he once called home against a team he once called his own, Harang changed all that with a strong performance in a 4-2 Mariners win.
"I've made many starts on that mound," Harang said. "I got back out there, and it felt like old times."
The 35-year-old right-hander and former Reds ace delivered four scoreless innings before giving up a run in the fifth and sixth. Pitching in Cincinnati for the first time since he played for the club in 2010, he allowed six hits and walked just one batter in six innings of work.
After spending seven-plus years in Cincinnati, Harang entered Friday with more strikeouts (595) than anyone else in the 11-year history of Great American Ball Park. He added to that total against his former team, fanning four batters on the way to his fourth win of the season.
"I was pretty excited to come in here," said Harang, who added that he reconnected with a lot of familiar faces. "The last couple years, I've been getting to come here, but I get to be a fan and watch the rest of my team. It was nice to finally get to come in and make a start here."
Harang's return was made a little easier thanks to some early help from his offense, which scored in each of the first two innings. Shortstop Brad Miller, leading off for the first time as a Major Leaguer, opened the game with a triple off Cincinnati starter Mike Leake. On the very next pitch, Nick Franklin took a sinker and drove it over the wall in right field to put Seattle on top, 2-0.
"It was a surprise, like, 'Holy cow, they're up, 2-0, already,'" Reds third baseman Todd Frazier said. "Two pitches: 2-0. It kind of took us back a little bit. At the same time, we thought we had a chance. They came out swinging. With Harang throwing and hitting his spots and mixing all of his pitches up, it leads to victory."
The triple from Miller that started the game was the first of his career, as he was playing just his seventh big league game. He added another three-bagger in the fifth, and the aggressiveness that made each one possible was the reason manager Eric Wedge inserted him in the top of the lineup.
"That's the way he plays the game, whether it be at home plate, in the field or on the basepaths," Wedge said. "I love the way he comes out of the box. He's thinking not doubles; he's thinking triples out of the box."
Following a perfect first inning from Harang, Michael Saunders -- in his first start since his right middle finger got spiked last week -- led off the second with a solo shot to right.
With the blasts from Franklin and Saunders, the Mariners have homered in each of their last 13 games, drilling 23 in that stretch. Seattle has gone 6-7 in those games, including winning three of the last four.
Manager Eric Wedge said the key to the Mariners' recent success with the long ball was an aggressive but disciplined attitude at the plate.
"That's the fine line," Wedge said. "It's controlled aggressiveness, and that's what we're trying to do."
Saunders added his second RBI and the Mariners' final run of the night on a sacrifice fly in the fourth, when Kyle Seager walked and advanced to third on a wild pitch and a groundout.
Harang finally surrendered a run in the next inning, which he started with consecutive strikeouts. Devin Mesoraco notched a single in the next at-bat, and he came around to score after another single, and then a double by Shin-Soo Choo. Cincinnati scored again in the sixth on a 443-foot blast by Joey Votto to lead off the inning.
Following the home run, Harang struck out Brandon Phillips and forced two groundouts to end his day. That set up Seattle's bullpen, which allowed just one baserunner through three innings on an error in the first at-bat of the seventh.
Right-hander Yoervis Medina pitched two-thirds of an inning before left-handers Charlie Furbish and Oliver Perez finished the deal. Perez came on in the ninth to face left-hander Jay Bruce, but Wedge stuck with him to take on righty Frazier and switch-hitter Derrick Robinson.
He struck out the side to earn his second save of the season and help the Mariners start their six-game road trip with a 3-1 record.
"I just want to be in the game," Perez said when asked if he liked pitching in the ninth. "If I'm a starter, anything, I just want to be in the game and help my team win."
Jeremy Warnemuende is an associate reporter for MLB.com. This story was not subject to the approval of Major League Baseball or its clubs.