Buehrle's excellent outing a ray of light before break
Buehrle's excellent outing a ray of light before break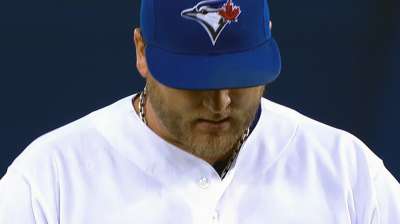 TORONTO -- The Blue Jays are in desperate need of a turnaround before the All-Star break, and it was Mark Buehrle who ensured their final stretch of nine games started off on the right foot.
Toronto's left-hander came through with one of his best outings of the season to snap a three-game losing streak and put his club in a prime position to win a series for the first time since June 21-23.
With eight games remaining before the break against Minnesota, Cleveland and Baltimore, the work is only just beginning, but the march past .500 baseball began on Friday night.
"We can lose 10 in a row or win 10 in a row. I'm going out there trying to win," an unfazed Buehrle said of his approach following the 4-0 victory vs. the Twins. "When the bullpen is used a lot, I try to go in there deep in the game. I try to win every game no matter the situation."
Toronto got itself back into contention during the month of June with an 11-game winning streak. The Blue Jays passed Tampa Bay in the standings to move out of last place in the American League East for the first time since April, while also gaining serious ground in the Wild Card standings.
A lot has changed since then, though. Toronto followed up its winning streak by dropping eight of the next 11 games to once again drop into the basement of the AL East. There's no longer much room for error in the chase for a spot in the postseason, but the first goal is to end the first half on a positive note.
Blue Jays manager John Gibbons pointed to these nine games vs. the Twins, Indians and Orioles as a crucial stretch. Toronto still doesn't know what kind of team it's going to be this season, but there's a strong possibility that more will be revealed in the near future.
"These nine games are very, very important to us," Gibbons said before Friday's game. "We'll have a better idea of where we're at, I would think, going into the All-Star Game. We're playing some pretty good teams, and we've been struggling lately. We definitely need to kick it in, that's for sure."
Buehrle helped with the initial phase of that goal by scattering six hits across seven scoreless innings of work. He didn't walk a batter while striking out five and throwing 74 of his 101 pitches for strikes.
There were only a couple of potentially dangerous situations that Buehrle had to pitch his way through. The Twins had runners on second and third with just one out in the first, but Buehrle struck out Justin Morneau and Trevor Plouffe to end the threat.
The second situation occurred in the fourth, when Buehrle surrendered a pair of back-to-back singles with two outs. He also got out of that jam with a strikeout, as he caught Aaron Hicks looking on a well-located, four-seam fastball.
Buehrle's strong outing continued his trend of success against the Twins. The 14-year veteran hadn't faced Minnesota since 2011, but has now gone 35 2/3 innings without having surrendered a run against the organization, while allowing just 20 hits over that span.
"Luck, to be honest with you, I don't know," Buehrle said when asked for reasons behind his success against the likes of Morneau and Joe Mauer. "It seems like the bigger-name guys, the guys that are supposed to kill you, don't, and then there's guys -- I can rattle off a few names that you guys would probably look at me like I'm crazy -- that have owned me.
"I don't say I get geared up for them. I know these guys are good players, but you have success against certain guys, and some guys that are in the big leagues for two years and they absolutely kill you. I don't know. I can't pinpoint what it is."
The seven innings matched a season high for Buehrle -- he'd gone seven on five separate occasions this year. It marked the first time he allowed fewer than four runs since June 19, but he is 4-3 with a very respectable 3.00 ERA dating back to May 11.
It was Jose Bautista who gave the Blue Jays an early lead in the third inning when he sent a 2-2 curveball over the wall in straight-away center field. That continued his recent turnaround following a rough month of June. The Dominican native now has four homers, two doubles, seven RBIs and five walks since June 29.
Toronto added to its tally in the fourth, when Jose Reyes recorded a two-run double and Bautista added an RBI single. All four runs where charged to right-hander Kevin Correia, who allowed 10 hits and three walks over six innings.
"I think the main problem in the fourth was two walks to lead off the inning," Correia said. "These guys are going to get hits. It's a very good lineup. They hit some balls that found holes and some right down the line, but it was the walks that killed me."
With the victory, the Blue Jays climbed back to within two games of .500. They have two more games remaining against the Twins before closing out the first half with a road trip through Cleveland and Baltimore.
Toronto will be re-evaluated in the near future, but there's still time for some last impressions before Judgement Day arrives.
Gregor Chisholm is a reporter for MLB.com. Read his blog, North of the Border, and follow him on Twitter @gregorMLB. This story was not subject to the approval of Major League Baseball or its clubs.