Cook, Francis may help Rockies staff later on
Cook, Francis may help Rockies staff later on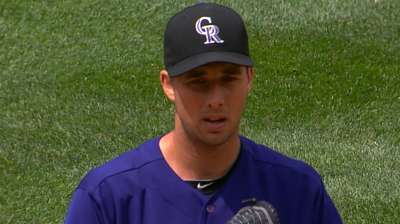 PHOENIX -- Remember those happy times, when left-hander Jeff Francis and right-hander Aaron Cook were stalwarts of a Rockies club that went to the World Series in 2007. Can the pair turn back the clock and help the 2013 club?
Rockies assistant pitching coach Bo McLaughlin doesn't believe the thought is so far-fetched. Both are in Triple-A Colorado Springs, and seem to be on an upswing. They're not being looked at to carry the club, but the Rockies might need them if they're in a late-season playoff race and need decent starts and a volume of innings.
With high-profile pitching difficult to obtain on the trade market, the Rockies might need to reach into their system if they need help. Those would not be the type of moves that excite fans, but if they provide competent innings and give the lineup -- once it's healthy -- a chance to win games, that might be good enough.
Francis began the year in the rotation and struggled to 2-5 with a 6.58 ERA in 11 starts before the Rockies convinced him to accept an option to Colorado Springs. Francis' numbers in four starts for the Sky Sox are actually worse -- 0-2, 6.62 ERA. But his last two outings have been encouraging -- three hits and two runs in 5 2/3 innings on June 28, and five innings, two runs and five hits Thursday night. The reports McLaughlin has seen indicate Francis could make himself competitive at the big-league level again.
"He's using his fastball a lot more and it's helping him out," McLaughlin said. "He's spotting it up better, he's more aggressive with it, and it's making his other pitches better. And by throwing his fastball more, he's staying around 88 mph instead of 86 or 85, so there's more velocity. He's going to help us win some more ballgames before it's all over.
"He's still working hard, trying to make himself better. He knows the opportunity is going to be here. He has to keep doing his thing."
Cook, 34, who rejoined the Rockies after being released by the Phillies at the end of Spring Training, missed a month with elbow soreness. But he returned Wednesday and struck out two while giving up two runs and five hits in four innings while working with a tight pitch count. McLaughlin said the month of rest and rehab has done Cook some good.
"He's always had a good sinker, and with the rehab he's had time to get his good breaking ball," McLaughlin said. "If he gets his breaking ball back … That's when he was at his best, when he had those two pitches.
"We don't want to forget about those guys. That's why I keep track of them. They just might help us."
Thomas Harding is a reporter for MLB.com. Read his blog, Hardball in the Rockies, and follow him on Twitter @harding_at_mlb. This story was not subject to the approval of Major League Baseball or its clubs.