Papi's homer punctuates gritty win in Anaheim
Papi's homer punctuates gritty win in Anaheim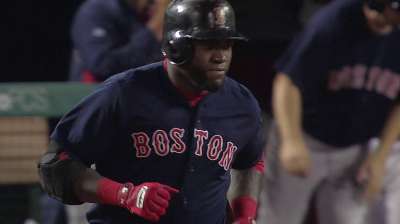 ANAHEIM -- David Ortiz can hide on the bench for seven innings and still find a way to torment the opponent with one powerful swing.
The slugger did just that to the Angels on Friday night, stepping up as a pinch-hitter in the eighth and drilling a towering, two-run blast to right to help lead the Red Sox to a 6-2 victory.
When Ortiz stepped to the plate, Boston was clinging to a 3-2 lead. After taking a 95-mph heater for a strike from Angels reliever Dane De La Rosa, Ortiz belted an 88-mph splitter for his 17th long ball of the season.
With first base open after Daniel Nava led off the inning with a double, Ortiz was just happy that Angels manager Mike Scioscia gave him the chance to swing the lumber.
"Like I say, pinch-hitting is not my favorite," Ortiz said. "I'm just part of the ballclub, and I try to help one way or the other. I tried to make things happen. I thought I'd be walked like usual. They pitched to me, and I made them pay."
It was the fifth pinch-hit homer of Ortiz's career, and second in Anaheim. Ortiz's first home run in a Boston uniform was a game-winner off the bench in a road game against the Angels on April 27, 2003.
Though this one wasn't quite as dramatic, Ortiz clearly enjoyed it, taking a long, slow step out of the box to admire his work.
"Just another homer," said Ortiz. "I'm used to it. Are you? Enjoy it. This ain't forever."
In truth, pinch-hitting is a lot more difficult to Ortiz than he made it seem in this once. Since the start of the 2005 season, he is a .148 hitter in 34 plate appearances with two homers and three RBIs.
"Just go to the cage between innings and stay loose," said Ortiz. "Make sure you're good to go. I don't like pinch-hitting. I don't think I'm that good at pinch-hitting. I just got a pitch over the plate and got a good swing on it and it got out."
Mike Napoli added another prodigious home run for Boston in the ninth, clubbing a towering shot that landed on the grassy hill in center. It was Napoli's first home run since June 1.
"It feels good, but I don't feel like I'm there yet," said Napoli. "It's something to build on and just keep going. It's at-bat to at-bat. Sometimes I feel really good, and sometimes I don't. I'm just going to keep grinding. Usually when I do that, it comes."
As for the Red Sox, they are on a certifiable roll, with wins in nine of their last 10 games to stretch their lead in the American League East to 5 1/2 games.
Much of the success has been achieved via late-inning rallies.
"Well, I can tell you, in the dugout there's a lot of positive energy. As long as we're close late, we feel like we've got a push late in the game seemingly every night and some way we'll find a way to put something together," said Red Sox manager John Farrell. "Whether we capitalize on an opportunity given to us or somebody puts up a good at-bat and then somebody squares one up, we've been fortunate. There's a lot of positive things taking place and it seems like every night, it's someone different."
Felix Doubront earned the win for the Sox with yet another strong performance, allowing five hits and two runs over 6 2/3 innings. The lefty walked two and struck out five, throwing 97 pitches.
In a 10-start stretch that began on May 16, Doubront has a 2.86 ERA. He has allowed three earned runs or fewer in all of those starts.
"I just want to keep that pace and help the team win," Doubront said.
Doubront's hot streak started after he had been skipped for a turn in the rotation because of a lack of success and diminishing velocity.
But Doubront made all the necessary adjustments and then some, and is currently riding the best stretch of his career.
"You know, it started a while ago down in Tampa, where he made some adjustments with [pitching coach] Juan [Nieves]," said Farrell. "They've altered his five-day rotation with his throwing, going to day three and getting him a little closer with the touch and feel the day before. And it certainly paid off. He's kind of flown under the radar given the years by other guys. He's logging quality innings for us."
Held in check by left-hander C.J. Wilson for most of the night, the Red Sox created an opportunity in the seventh inning and capitalized on it, thanks to some help from the Angels.
Shane Victorino opened the inning with a single. With two outs, Jonny Gomes blooped one into right. Right fielder Josh Hamilton ran a long way, and got there in time, but dropped the ball for an error. Victorino scored from first, allowing Boston to snap a 2-2 tie.
"That's a tough play," Gomes said. "For one, defending me, that's probably the last place you think that ball is going to go. And two, he had a long way to run. Like I said, to the naked eye, it probably looks like he just dropped it. But it was a tough play."
It was another frustrating moment in a challenging first season for Hamilton with the Angels.
"I started to slide to catch it, and then it came back on me. So, I was kind of caught in between," Hamilton said. "And it was jumping right on me, too. Because it was one of those where, if I slide, then it'd slow down. But it didn't do that. I didn't have that time to slow down, gather myself and get under it. And it just hit off my glove."
Ian Browne is a reporter for MLB.com. Read his blog, Brownie Points, and follow him on Twitter @IanMBrowne. This story was not subject to the approval of Major League Baseball or its clubs.