Angels' defense opens door for Red Sox
Angels' defense opens door for Red Sox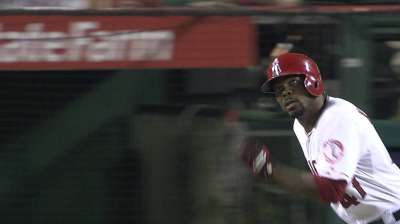 ANAHEIM -- One day this game can elevate you, make you feel invincible, as if nothing can touch you. The next, everything can come crashing down once again. Few have lived that reality like Josh Hamilton, whose career has taken him from No. 1 pick to cautionary tale to superstar to struggling Angel.
The last 24 hours were only the latest example.
On Thursday night against the Cardinals, his prodigious ninth-inning homer tied the game and set the stage for a walk-off victory. On Friday night against the Red Sox, his dropped fly ball in right field with two outs in the seventh allowed the deciding run to score in his team's 6-2 loss at Angel Stadium.
"The hero to the goat," Hamilton said. "You play the game, you're going to make mistakes."
Hamilton wasn't the sole reason the Angels lost the series opener. J.B. Shuck saw a line-drive single to left field skid by him, plating an additional run in the second. Dane De La Rosa surrendered a pinch-hit two-run homer in the eighth to David Ortiz. And the Angels mustered only two runs on six hits against Felix Doubront and the Red Sox's bullpen.
But it was Hamilton's misplay that might have single-handedly turned the game in another direction -- in the opposite manner with which his two-run shot to center impacted the previous night's contest.
"He's been hitting the ball really well; he's been playing great defense, too, it's just unfortunate that tonight the ball unraveled on that one," said C.J. Wilson, who gave up three runs (one earned) in 6 2/3 innings and exited after the error, eventually snapping his four-game winning streak.
"It's a big adjustment to move from center to right on a permanent basis. I think he's still in the adjustment phase with that," Wilson said. "He's doing the best he can."
The weekend series pinned two teams coming off eight victories in their last nine games, and through the first six, they were deadlocked at 2 as Wilson and Doubront went toe to toe.
Then came the top of the seventh. The Red Sox (54-34) had the speedy Shane Victorino on first with two outs when the right-handed-hitting Jonny Gomes lofted a high fly ball to shallow right field. Hamilton ran a long way and got under it, but had it bounce off the tip of his glove and roll behind him -- akin to his critical dropped fly ball in Oakland last Oct. 3 -- and Victorino motored in from first base.
"I started to slide to catch it, and then it came back on me," Hamilton said, his Angels four games below .500 once again. "I was kind of caught in between. And it was jumping right on me, too. Because it was one of those where, if I slide, then it'd slow down. But it didn't do that. I didn't have that time to slow down, gather myself and get under it. And it just hit off my glove."
Hamilton talked about adjusting to the configurations of a new stadium, particularly the right-field portion, saying the ball that was hit to him usually fades towards foul territory, not the other way around.
"But in the end," he said, "the play's gotta be made."
Hamilton, who went 1-for-4 to extend his hitting streak to a season-long 10 games, has made six errors this season. He made seven all of last year.
"That's a tough play," Gomes said. "For one, defending me, that's probably the last place you think that ball is going to go. And two, he had a long way to run. Like I said, to the naked eye, it probably looks like he just dropped it. But it was a tough play."
The game was still very much in reach by the eighth, when De La Rosa gave up a leadoff double to Daniel Nava and Red Sox skipper John Farrell called on Ortiz -- out of the starting lineup mostly because of the opposing lefty on the mound -- to pinch-hit.
With first base open, and lefty Scott Downs available, Scioscia kept his right-hander in.
And on 0-1, Ortiz took a low-and-away splitter and crushed it out to right field for his team-leading 17th homer.
"We had a base open and hopefully we were looking for Dane, who's throwing the ball really well for us, to get the ball in some good spots and hopefully get David out," said Scioscia, who stayed away from Downs because he didn't want to burn his only lefty in a game the Angels trailed. "Unfortunately, he left an offspeed pitch up a little bit and he hit it."
Alden Gonzalez is a reporter for MLB.com. Read his blog, Gonzo and "The Show", and follow him on Twitter @Alden_Gonzalez. This story was not subject to the approval of Major League Baseball or its clubs.