Braun scheduled for BP session Saturday
Braun scheduled for BP session Saturday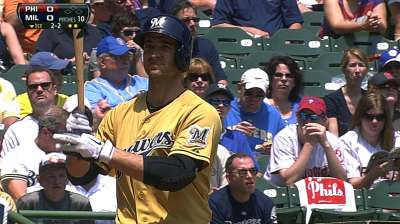 MILWAUKEE -- Ryan Braun took about 50 swings in the batting cage Friday and will take batting practice on the field Saturday to continue his road back from a right hand injury that has kept him out nearly a month.
Brewers manager Ron Roenicke said Braun will take batting practice Saturday, swing in the inside cage Sunday and return for BP on the field again Monday.
"He's going to get after it here the next few days and see where we are," Roenicke said. "He's kind of champing at the bit, so he's feeling that good. We'll see how close he is to being ready."
Braun said things were improving, but he put no timetable on a return.
"We're progressing, heading in the right direction," Braun said. "The soreness isn't going to go away, but it was as good as I could hope for it to feel."
Braun's progress has ramped up this week. The left fielder took swings on back-to-back days Tuesday and Wednesday for the first time since an inflamed nerve between his right thumb and index finger placed him on the disabled list in mid-June.
The Brewers are 9-13 since Braun left their June 9 win over the Phillies with soreness in his thumb. The injury had been bothering Braun for a few weeks prior to his departure that day.
When Braun is ready to return to the field, Roenicke said it will not be on a Minor League rehab assignment.
"We'll get him in a ballgame and then we'll have to see how much I play him, whether he plays and then has a day off or whatever," Roenicke said. "We'll get together with the training staff and determine that."
Kevin Massoth is an associate reporter for MLB.com. This story was not subject to the approval of Major League Baseball or its clubs.