Showalter interested to see who gets All-Star nods
Showalter interested to see who gets All-Star nods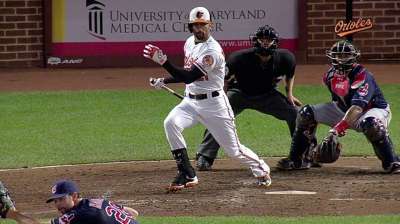 NEW YORK -- Orioles manager Buck Showalter found himself courting some interesting achievements on the eve of the All-Star announcements. Showalter was asked Friday about his team, which could have four elected All-Star starters for the first time in franchise history.
First baseman Chris Davis and shortstop J.J. Hardy had big edges on the competition at their respective positions in the last balloting update, and center fielder Adam Jones also appeared to have a spot locked down. Right fielder Nick Markakis landed fourth among outfielders in the last update, and Showalter said Friday that the Orioles are hoping he somehow gains momentum.
"I think everybody's pulling for him," Showalter said. "Nickie is never the type of guy that would say it would mean something to him. He'll say, 'Well, I get to spend time with my two boys and my wife, who's due shortly.' He'd be fine with that. Nickie's not into that self-satisfaction. He sincerely cares about us doing well. He'd never say it publicly, but I think it would mean as much to us as it does to him."
The All-Star teams will be announced Saturday at 6:30 p.m. ET on FOX, and the Orioles could also have additional candidates in closer Jim Johnson and third baseman Manny Machado. Johnson leads the Majors in saves (29), and Machado went into Friday's game batting .319.
Even catcher Matt Wieters -- who homered in Friday's game -- could make an All-Star case for himself. Showalter refused to speculate on what it would mean to Baltimore to have four All-Star starters, and he said that the process usually allows the best available players to make the team.
"I'll tell you, the fans have done a pretty good job," said Showalter of the annual fan balloting for the All-Star Game. "It's hard to argue with a lot of their picks. I'm sure somebody could and will, and that's part of it, too. I did my ballot -- and over, and over. There's something about being able to vote. Of course, there's some political elections that probably work that way too around the world."
Showalter lauded Davis, who leads the AL with 32 home runs, for working hard and taking advantage of the opportunities he's been given. Showalter also saved special praise for Machado, the 20-year-old prodigy who currently leads the league in doubles (39) and is on a record-setting pace.
"I just want to think that he's going to be as good as he's capable of being," Showalter said, "and I feel comfortable with that. Whatever he ends up being, I won't be around to see it. I'm hoping at some point I'm watching games through some real thick glasses and saying, 'I used to manage that guy.' The ones that keep me up at night, I don't know if they'll ever reach their potential."
Spencer Fordin is a reporter for MLB.com. This story was not subject to the approval of Major League Baseball or its clubs.