Marlins to make sure Stanton gets necessary rest
Marlins to make sure Stanton gets necessary rest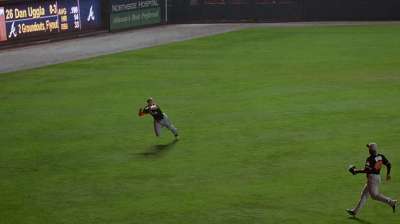 ST. LOUIS -- The way Giancarlo Stanton ran down Dan Uggla's long fly ball on Thursday night showed the right fielder legs are holding up. The Marlins are closely monitoring Stanton to make sure he stays that way.
Stanton missed all of May and the first week of June due to a strained right hamstring. His presence has been felt since returning on June 10. Miami is 14-8 with Stanton in the lineup since he returned.
The right fielder made the Marlins' most significant defensive play of the season in the ninth inning of Thursday's 4-3 win at Turner Field. With one out and a man on first, he sprinted into the gap and dove to rob Uggla of extra bases. If that ball had dropped, the Braves would have tied the score and had the winning run in scoring position.
Manager Mike Redmond keeps close tabs on Stanton's health. Right now, the 23-year-old wants to keep playing without periodic breathers. That could change on either Saturday or Sunday with back-to-back day games at St. Louis.
"Right now, we'll kind of going on how he feels and how he's moving around there," Redmond said. "I talk to him every day about how he's feeling. He says he feels great. He wants to play and he wants to be out there.
"You can kind of tell when a guy starts to drag a little bit out there, and give him some days. They have ways of letting you know they need a break."
Keeping Stanton out of the lineup is tough for Redmond, because he is one of the most feared sluggers in the game.
"Offensively, he's scuffling a little bit, but he will work through it," Redmond said. "He's one of those guys, his presence in the lineup, one swing and he's back on track."
Joe Frisaro is a reporter for MLB.com. He writes a blog, called The Fish Pond. Follow him on Twitter Share This